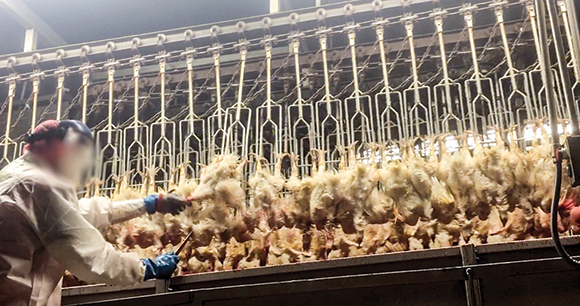 Washington, DC— Following a comment period that produced over 100,000 comments, the US Department of Agriculture's Food Safety and Inspection Service (FSIS) announced late yesterday its rejection of a petition submitted by the National Chicken Council to implement a waiver system allowing for poultry lines to operate at unlimited speeds.
However, in a letter issued to the National Chicken Council this week, Acting Deputy Under Secretary Carmen Rottenberg stated that the FSIS plans to release criteria under which the agency will consider individual waiver requests for operation at speeds up to 175 birds per minute. Additionally, in a recent interview with industry publication Meatingplace, Rottenberg indicated that the agency may significantly increase the number of plants operating at high line speeds by granting such individual waivers.
In reaction to this update, the Animal Welfare Institute (AWI) issued the following statement:
The USDA's rejection of the National Chicken Council's petition to implement a waiver system for increasing poultry line speeds still leaves poultry at slaughter vulnerable. While it is encouraging that the FSIS has denied a legally indefensible waiver system, the agency still left the door open to individual waiver requests.

There is every indication that increasing line speeds will negatively impact the welfare of billions of birds by increasing incidents of loss of process control. The heightened speed increases the possibility that individual birds will be bruised or otherwise injured, and that birds will die other than by slaughter, such as by drowning in the scald tank.
###