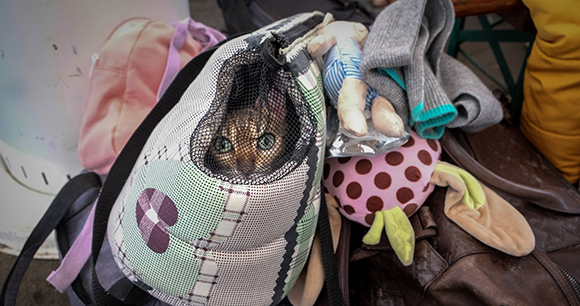 Photo by Bogdan Baraghin, FOUR PAWS
Washington, DC—As the devastating war in Ukraine continues to upend the lives of millions of people and untold numbers of animals, the Animal Welfare Institute (AWI) has partnered with FOUR PAWS International to support the delivery of urgent aid to companion animals and rescued wild animals affected by the crisis.
FOUR PAWS, a Vienna-based global animal welfare organization, is working on the front lines in Ukraine. Days after the war began, FOUR PAWS began providing Ukrainian refugees in Romania and Moldova with supplies for their companion animals, including bags of dog and cat food, pet carriers, and pet beds. Additionally, FOUR PAWS partnered with Animals ID and Dogs Trust Worldwide to launch Ukrainian Pet Association Worldwide (UPAW), a platform for Ukrainian shelters to ask for much needed supplies. UPAW has since facilitated dog and cat food distribution to over 100 shelters in Kyiv, Kharkiv, and other cities. In total, UPAW has processed over 130,000 requests for help and has delivered 460 tons of pet food to help feed over 100,000 dogs and cats—a huge relief to areas where food and medical supplies have been in very short supply. In addition, with AWI's support, FOUR PAWS is launching a pet and family reunification pilot program. 
FOUR PAWS also operates Bear Sanctuary Domazhyr, 49-acre site that houses 34 rescued bears in western Ukraine. In March, the organization rescued multiple bears and transferred them to the sanctuary, including a 20-year-old "restaurant bear" named Vova who lived in a tiny, concrete-floor cage near a recently burned-down restaurant in the Khmelnytskyi region of Ukraine. Seven additional bears from the White Rock Bear Shelter near Kyiv were also transferred to the Domazhyr sanctuary out of fear that they would fall victim to bombings in the area. AWI is helping to fund the evacuated bears' medical care.
"AWI is grateful for the opportunity to collaborate with FOUR PAWS and salutes the tireless efforts of rescue workers to house, feed, and care for companion animals fleeing with their families and those in shelters, as well as wild animals in zoos and rescue and rehabilitation centers—all of whom desperately need assistance," said Cathy Liss, president of AWI. "Our hope is that this partnership helps to ease the suffering inflicted upon the animals and the people of Ukraine, and that the nation can emerge from the current horror into a secure and peaceful future."
"Over 3 million people have already fled Ukraine, while over 10 million have left their homes. While many of the refugees have managed to escape with their pets, there are still thousands of animals that have been left behind," said Danika Oriol-Morway, the US country director for FOUR PAWS. "This is why FOUR PAWS is putting our strong network and decades of working in Ukraine to good use by offering aid to refugees fleeing with pets through vaccinations, microchipping, medical treatments, and providing food, transport boxes, leashes, and harnesses. FOUR PAWS has also reinstated stray animal care efforts in Ukraine as well as animal-assisted interventions offering therapeutic dog support for children and families."
To date, AWI has distributed nearly $80,000 to 14 organizations aiding animals who are suffering as a result of the war, including those in private and public shelters, veterinary clinics, zoos, and rescue and rehabilitation centers. We welcome additional donations to address critical short-term needs and assist longer-term efforts to rebuild. You can donate in two ways:
Through our 

website

 (click on the "donate" button and, in the comments section, designate your gift for "Ukraine").

Mailing a check to 

AWI

 with "Ukraine" noted in the memo.
We will send 100% of these contributions to verified organizations. As always, we appreciate your continued support.
The Animal Welfare Institute (awionline.org) is a nonprofit charitable organization founded in 1951 and dedicated to reducing animal suffering caused by people. AWI engages policymakers, scientists, industry, and the public to achieve better treatment of animals everywhere—in the laboratory, on the farm, in commerce, at home, and in the wild. Follow us on Facebook, Twitter, and Instagram for updates and other important animal protection news.