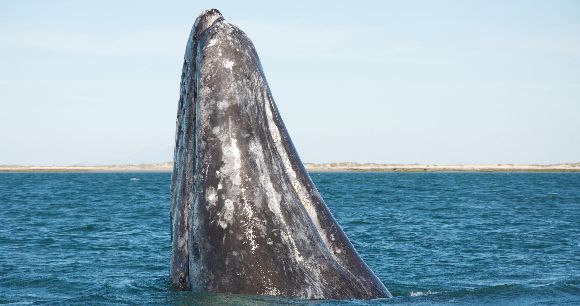 Photo from Flickr by Sam Beebe
Washington, DC—The Animal Welfare Institute (AWI) is disappointed by a judge's recent decision to recommend that a federal agency issue a waiver allowing the Makah Tribe to hunt gray whales.
On Thursday, an administrative law judge recommended that the National Marine Fisheries Service (NMFS) issue a waiver under the Marine Mammal Protection Act (MMPA) to authorize the Washington tribe's hunt. AWI and our attorneys continue to review the judge's recommendation and other documents.   
Among the recommendations governing the proposed hunt, the judge suggested that NMFS include provisions, such as limiting the hunt to odd years during the summer months, to reduce the threats from the recommended waiver to the critically endangered population of about 290 Western North Pacific gray whales.
However, these changes, even if implemented, would not eliminate risks to Western North Pacific gray whales. AWI also remains concerned about both the welfare and conservation impacts of a hunt on Eastern North Pacific gray whales—in particular, the approximately 240 whales who comprise the Pacific Coast Feeding Group. As AWI has stated for years, including during the waiver proceedings, we believe that the Pacific Coast Feeding Group constitutes a distinct management stock that should be designated by NMFS to provide additional protections.
All gray whales face critical anthropogenic threats from climate change, ocean noise, oil and gas development, pollution, coastal development, contaminants, bycatch, and ship strikes. Further, amid the current "unusual mortality event," which NMFS declared in 2019 pursuant to the MMPA, the Eastern North Pacific gray whale population has declined by 25 percent. In light of this decline and these acute threats, hunting these animals is biologically insupportable and inconsistent with the protective provisions of the MMPA.
While AWI disagrees with the Makah Tribe about the gray whale hunt, we support tribal sovereignty and respect the tribe's traditions involving the importance of the gray whale to its culture, such as through stories, art, and dance.
The judge's recommendation does not conclude the legal/administrative processes required under federal law; no hunt can proceed until all of the requirements of the MMPA, the National Environmental Policy Act, and other laws are satisfied. AWI remains committed to participating in future decision-making processes related to the proposed hunt in order to ensure that the best available scientific evidence is brought to bear on these various decisions.
"This is one step in a long journey," said DJ Schubert, AWI's wildlife biologist. "As this process continues, we hope that the legacy of the MMPA and the best available science will prevail to protect these whales from unnecessary suffering."  
For further information about aboriginal subsistence whaling, including the Makah hunt, please visit AWI's website.
Media Contact Information