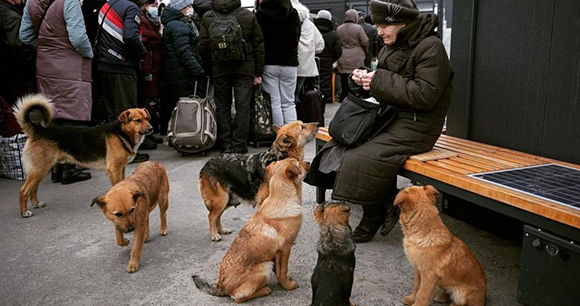 Photo from Casa lui Patrocle
Since the posting of this release, AWI has been able to fund five additional organizations, along with increasing our initial donation to Four Paws International. Click here to learn more.
Washington, DC—As people around the world watch in horror at the devastated communities and swelling numbers of refugees fleeing the Russian invasion of Ukraine, the Animal Welfare Institute (AWI) is committed to supporting animal welfare groups that are working tirelessly to house, feed, and care for animals affected by the ongoing crisis.
AWI has initially distributed nearly $25,000 to multiple organizations in Ukraine and neighboring countries that run or support private and public shelters, veterinary clinics, zoos, and rescue and rehabilitation centers providing desperately needed care. 
The organizations we have funded to date are:
At this critical time, we welcome additional donations to help support the important work of animal welfare organizations aiding animals impacted by the war in Ukraine. These funds will address critical short-term needs and assist longer-term efforts to rebuild. You can donate in two ways:
Through our

website

by designating your gift for "Ukraine."

Mailing a check to

AWI

with "Ukraine" noted in the memo.
We will send 100% of these contributions to verified organizations. We thank you for your ongoing support, which helps make this effort possible.
The Animal Welfare Institute (awionline.org) is a nonprofit charitable organization founded in 1951 and dedicated to reducing animal suffering caused by people. AWI engages policymakers, scientists, industry, and the public to achieve better treatment of animals everywhere—in the laboratory, on the farm, in commerce, at home, and in the wild. Follow us on Facebook, Twitter, and Instagram for updates and other important animal protection news.