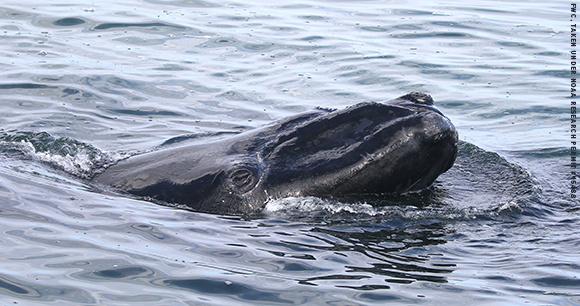 Photo by Florida Fish and Wildlife Conservation Commission, taken under NOAA research permit #15488
Washington, DC—The Animal Welfare Institute (AWI) commends Senators Cory Booker (D-NJ) and Johnny Isakson (R-GA) for introducing Tuesday the Scientific Assistance for Very Endangered (SAVE) Right Whales Act (S.2453) to help protect this highly imperiled species. The legislation would provide sustained funding for collaborative efforts between states, nongovernmental organizations and industry leaders to enact much-needed conservation efforts to protect the North Atlantic right whale.
The House version of the SAVE Right Whales Act (H.R. 1568) was introduced by Representatives Seth Moulton (D-MA) and John Rutherford (R-FL) earlier this year and passed out of the House Natural Resources Committee in May.
Right whales, who traverse the waters of the entire East Coast, earned their name because they were considered the "right" whales to hunt—they are slow-moving and float after being killed. Today, they number as few as 420 individuals and face extinction in our lifetime owing to the myriad threats that directly impact the species—mainly fishing gear entanglements and vessel strikes. At least 28 North Atlantic right whales have died since 2017.
Right whales are extremely vulnerable to being caught in the vertical buoy lines used in lobster and crab trapping gear. Entanglement can lead to drowning, reduced mobility and, in some cases, a long, painful death from starvation. Right whales also collide with ships, causing deaths or serious injuries, such as blunt force trauma, propeller cuts and broken bones. The SAVE Right Whales Act would fund innovative methods, such as whale-safe fishing practices, to reduce the number of vessel collisions and entanglements affecting right whales.
"The North Atlantic right whale plays a key role in balancing our ocean ecosystem, and it is critical that we take immediate action to protect this endangered species," Booker said. "We need to provide stakeholders and experts with the necessary resources to develop solutions and keep the right whale from going extinct in our lifetimes."
Isakson added: "The North Atlantic right whale was named the official Georgia state marine mammal when I served as minority leader in the Georgia State House, and I am proud that my state's coast is still home to one of the few known calving grounds for this magnificent animal. I'm glad to introduce the Scientific Assistance for Very Endangered Right Whales Act to help learn about how we can better protect this important beast whose numbers continue to dwindle."
"We are heartened that members of Congress on both sides of the aisle recognize the precarious fate of the North Atlantic right whale," said AWI President Cathy Liss. "Population estimates show that few reproductively active females remain, and recent severe losses underscore the dire need for Congress to pass legislation that would bolster conservation efforts for years to come. Without immediate action, this species could be lost forever."
###
Media Contact Information