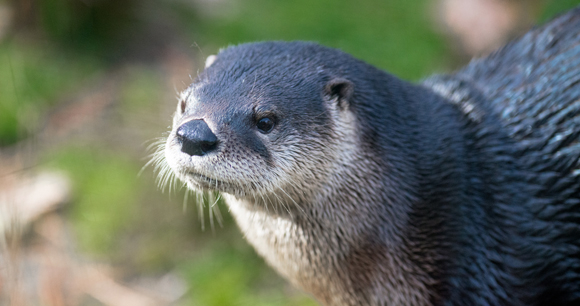 Photo by Eric Kilby
Washington, DC—The Animal Welfare Institute (AWI) welcomes the reintroduction of the Public Safety and Wildlife Protection Act yesterday by Representatives Alma Adams (D-NC) and Nita Lowey (D-NY). This bill would prohibit the import and export of, as well as interstate commerce in, two of the most notorious types of body-gripping traps—steel-jaw leghold traps and Conibear (also known as kill-type) traps.
Millions of animals are trapped and killed each year in the United States through the use of body-gripping traps. Due to their nonselective nature, Conibear and steel-jaw leghold traps injure not only the targeted wildlife species sought by trappers for their pelts, but also a wide array of unintended victims including endangered and threatened species, companion animals, and even people.
Introduction of the Public Safety and Wildlife Protection Act was spurred in part by a horrific incident that occurred just outside Adams' district in North Carolina. In 2015, a 12-year-old boy was injured by a Conibear trap when he was playing near a pond in his neighborhood. It took a team of six doctors and several hours in the emergency room to pry the boy's arm free from the trap's metal jaws.
Steel-jaw leghold traps have been condemned as inhumane by the World Veterinary Association, the National Animal Control Association of the United States, and the American Animal Hospital Association. They operate by slamming shut with bone-crushing force on the limb of any animal that trips the device. Left in agony for long periods without food or water, victims may chew off their own trapped limb to escape. Conibear traps are intended to break or crush an animal's spinal column but, as with other body-gripping traps, their efficacy and accuracy are unreliable. These devices may not quickly kill the animal, and instead result in injuries and prolonged suffering.
"Steel-jaw leghold traps and Conibear traps can inflict tremendous suffering on any animal caught in the metal jaws," said Cathy Liss, president of AWI. "Animals who do not die right away are left in agony, pinned by the powerful spring-loaded clamp. Furthermore, anyone can trigger these barbaric devices, including people and their pets. It's time to evolve beyond such an archaic method of capturing wildlife, and I thank Representatives Adams and Lowey for championing the Public Safety and Wildlife Protection Act to curtail the use of such traps."
"I'm introducing the Public Safety and Wildlife Protection Act today because we cannot afford to ignore the danger posed by antiquated body-gripping traps," Adams said. "Wildlife, pets, and people are placed in harm's way whenever these violent traps are around. I am proud to reintroduce this important piece of legislation with my colleague, Congresswoman Nita M. Lowey, to protect our wildlife and our families."
"I am proud to fight alongside Congresswoman Adams to eliminate the use of antiquated steel-jaw and Conibear traps that cause unnecessary violence to our wildlife, environment, and communities," Lowey said. "While the use of these traps is cruel and unnecessary to wildlife, the devices also pose a risk to adults, children, and pets. I commend my colleague's dedication to this fight, and I hope now we can finally rid our ecosystems of the scourge of violent traps and better protect all living things."
Media Contact Information