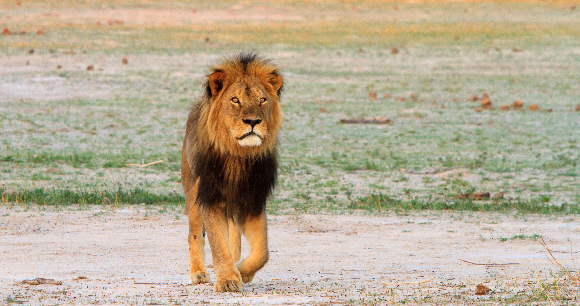 Photo of Cecil from Flickr by Paulafrenchp
Washington, DC—The Animal Welfare Institute (AWI) is grateful for today's reintroduction of the Conserving Ecosystems by Ceasing the Importation of Large Animal Trophies Act (CECIL Act), named after the lion killed in 2015 by an American trophy hunter in Zimbabwe.
Introduced by Congressman Raúl M. Grijalva (D-AZ), this legislation would greatly limit the ability of sport hunters to import trophies of imperiled species.
"Species such as African elephants and lions face grave threats to their survival and there is no credible scientific evidence that legal hunting enhances their conservation," said Cathy Liss, president of AWI. "The revenue generated by trophy hunts often fails to provide any meaningful income to impoverished locals. Rather, these hunts usually funnel money into the hands of a select few without improving protections for hunted wildlife populations. No species that faces extinction should be further victimized by someone looking to hang a head on a wall."
The CECIL Act amends the Endangered Species Act (ESA) to prohibit—absent a permit— trophy hunting imports of threatened species or species proposed for listing as threatened or endangered. It would also promote greater transparency from the US Fish and Wildlife Service (USFWS) by mandating that the agency publish each import permit application it receives for a threatened or endangered species. Before issuing an import permit, the USFWS would be required to make a determination, following a public comment period, on whether the country where the animal was killed adequately provides for the conservation and monitoring of that species. In addition, the bill would reverse shortsighted policies implemented by the current administration by prohibiting the importation of elephant or lion trophies from Tanzania, Zimbabwe or Zambia, where these species have experienced severe population declines.
"As President Trump has stated, trophy hunting is a 'horror show,'" said Liss. "The CECIL Act would reinstate crucial protections for threatened and endangered species, and ensure that the USFWS is prioritizing the conservation of vulnerable wildlife. I thank Congressman Grijalva for reintroducing this important legislation."
###