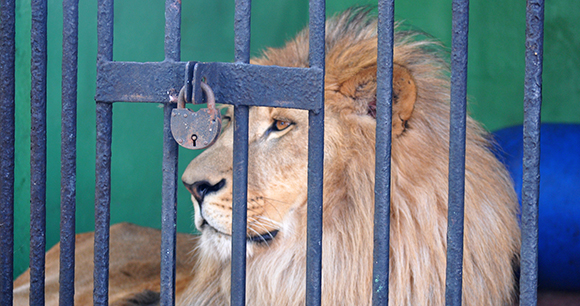 Photo by Andrey
Washington, DC—The Big Cat Public Safety Act, which passed the US House of Representatives by a strong bipartisan majority last month, was reintroduced today by Representatives Mike Quigley (D-IL) and Brian Fitzpatrick (R-PA). This bill gained momentum in part due to public outrage over the abuse of captive big cats that was depicted in the Netflix docuseries "Tiger King." The Animal Welfare Institute (AWI) endorses this legislation, since it would end several cruel practices associated with keeping big cats in captivity.
First introduced in 2012, the legislation would prohibit private individuals from possessing lions, tigers, leopards, cheetahs, jaguars, cougars, or any hybrid of these species. This prohibition would only apply to big cats kept as pets; sanctuaries, universities, and zoos would be exempt. Current big cat owners would be grandfathered in but would be required to register their animals in order to alert first responders and animal control officers that these dangerous cats are being held in their communities.
Additionally, the bill would prohibit public petting, playing with, feeding, and photo ops with cubs. The profit derived from encouraging the public to handle and pose with cubs is the primary driver of surplus tigers flooding the exotic animal trade in the United States and results in untold numbers of animals being subjected to stress and abuse.
It is estimated that thousands of big cats are currently kept in captivity across the country. Since 1990, there have been at least 400 dangerous incidents involving captive big cats in 46 states and the District of Columbia. Big cats have killed at least 20 adults and five children, in addition to mauling scores of others.
"This poorly regulated trade, fueled by irresponsible breeders, has persisted for far too long," said Cathy Liss, president of AWI. "There have been too many escapes, attacks, and deaths resulting from big cats kept as pets in basements and backyards. Many of these animals come from abusive cub petting operations that incessantly breed big cats for profit. These egregious violations of animal welfare and public safety must be outlawed."
"Animals like tigers, lions, leopards, and pumas simply do not belong in private ownership," Quigley said. "Not only does it place the public, including law enforcement and first responders, in grave danger—it also often results in these animals living in miserable conditions. After passing the House of Representatives last year with strong bipartisan support, I look forward to the Big Cat Public Safety Act advancing quickly and hopefully being signed into law this year. It's long past time that we act to protect the public and ensure big cats are treated humanely."
Media Contact Information