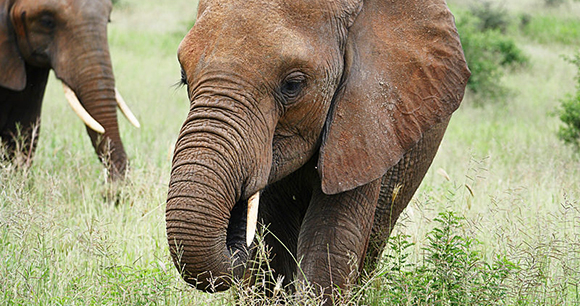 Photo from Flickr by Nik Borrow
Washington, DC—The Animal Welfare Institute (AWI) applauds Governor Rauner of Illinois for signing a bill to restrict the sale of ivory and rhino horn within the state yesterday.
"This law limits the sale of tusks and horns from imperiled elephants and rhinos, helping to preserve these majestic animals," said Cathy Liss, president of AWI. "Conservation actions at the state level are particularly important now, as the Trump administration moves to undo crucial protections for species worldwide."
The wildlife poaching crisis has exploded over the past several years, and elephant and rhino species are in grave danger. Worldwide, the illegal ivory trade has more than doubled since 2007 and tripled since 1998; an estimated 201,000 elephants have been killed since January 2012. In addition, all wild rhino species are imperiled and face severe pressure from poaching. In South Africa alone, 1,028 rhinos were killed during 2017, or an average of three rhinos per day.
This law is particularly crucial in Illinois. U.S. Fish and Wildlife Service seizure data show that illegal trafficking activity has occurred in the Port of Chicago. Between 2007 and 2013, 46 shipments of ivory containing a total of 212 items were refused entry. These seizures merely reflect the illegal items that were discovered; unknown quantities of illegal ivory slip through in concealed shipments.
With the enactment of this legislation, Illinois joins seven other states (California, Hawaii, Nevada, New Jersey, New York, Oregon, and Washington) that have passed similar laws to restrict or ban the sale of ivory and rhino horn within their borders.
"Governor Rauner's signature establishes Illinois as one of the leaders in the fight against wildlife trafficking." We are also grateful for the leadership of the bill sponsors, Representative Martin Moylan of Des Plaines and Senator Linda Holmes of Aurora," Liss said. "State by state, we will continue working to shut down the market for these wildlife products so that the United States does not play a role in driving the poaching crisis."
Media Contact Information