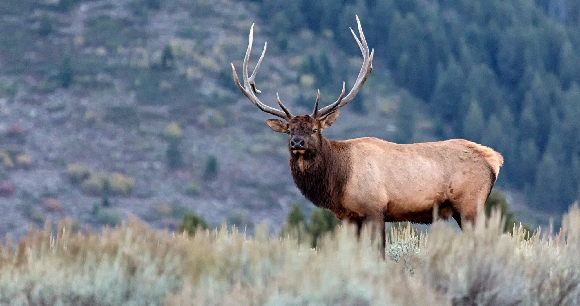 Photo from Flickr by Dmitry S.
Washington, DC—Today, the Animal Welfare Institute (AWI) announced the six recipients of its Christine Stevens Wildlife Award who are developing innovative, less intrusive wildlife study techniques and more humane methods of resolving conflicts between wild animals and humans.
Established in 2006, the award provides individual grants of up to $15,000 and is named in honor of AWI's late founder and longtime president, who dedicated her life to reducing animal suffering both here and abroad. Stevens founded AWI in 1951 to end the cruel treatment of animals in experimental laboratories. Inevitably, her work expanded to take on other animal welfare causes, including protecting vulnerable species, reforming methods used to raise animals for food, banning steel-jaw leghold traps, ending commercial whaling, and much more.
"The Christine Stevens Wildlife Award aims to inspire a new generation of compassionate wildlife scientists, managers, and advocates," said Cathy Liss, president of AWI. "From managing harmful diseases afflicting wildlife, to improving landscape connectivity for multiple species, these exciting research projects demonstrate that less intrusive study methods and humane solutions can help reduce human-wildlife conflicts."
The 2019 Christine Stevens Wildlife Award grant winners are:
Timothy Boycott of the College of William & Mary for projecting acoustic signals to reduce bird collisions with human-made structures in open airspace.
Dr. Angela Dassow of Carthage College for passively tracking the locations of packs of wild gray wolves in central Wisconsin through acoustic monitoring of their howls in order to reduce human-wolf conflicts.
Dr. Karen Herman of Mt. Taylor Mustangs for using population surveys and science-based fertility control to develop a humane, sustainable herd management plan for the free-roaming herd of horses in Placitas, New Mexico.
Dr. William Holben of the University of Montana for conducting noninvasive analysis of scat samples of North American elk to identify microbial biomarkers for wildlife disease management.
Naomi Louchouarn of the University of Wisconsin-Madison for investigating the effects of using range riders trained in low-stress handling to return herding instincts to livestock, making them less vulnerable to attacks by large carnivores in southwestern Alberta.
Paige Singer of Rocky Mountain Wild for collecting valuable wildlife data to inform the design of the Vail Pass Wildlife Byway in Colorado, which would improve landscape connectivity for multiple species.
Click here for more information about the Christine Stevens Wildlife Award and the 2019 winners.
Media Contact Information