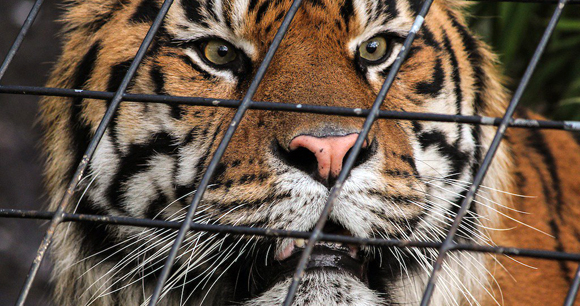 Photo by Shaker Media
Washington, DC—In the wake of Netflix docuseries "Tiger King" and heightened public attention to the exploitation of captive big cats, 53 bipartisan members of Congress sent a letter yesterday to the US Department of Agriculture calling for stronger enforcement of the Animal Welfare Act (AWA). The letter urges the USDA's Animal and Plant Health Inspection Service to issue a final rule eliminating automatic renewals of animal exhibitor licenses and requiring licensees to demonstrate compliance with the law before receiving a renewed license.
"Tiger King" has brought unprecedented public attention to the activities of roadside zoos licensed under the AWA. Prominently featured in the documentary are the Greater Wynnewood Exotic Animal Park in Oklahoma, formerly operated by "Joe Exotic," and Myrtle Beach Safari in South Carolina. For years, both facilities have not been subjected to any meaningful enforcement action, despite openly flouting AWA regulations.
"At multiple points during the series, individuals employed by these unaccredited zoos openly mock the USDA inspection process and flagrantly violate AWA regulations on camera," the letter states. "These instances are significant examples of the need for aggressive enforcement of USDA regulations and the importance of putting animal welfare and public safety first."
"'Tiger King' failed to illuminate the full extent of the abuse, but the roadside zoos it featured are still the perfect example of why we must hold exhibitors accountable for their appalling treatment of exotic animals," said Cathy Liss, president of AWI. "The well-being of animals regulated under the Animal Welfare Act should be the agency's top priority. Unfortunately, it is apparent that the USDA is focused instead on protecting the interests of roadside zoos and others who profit from animals while failing to provide them needed care."
AWI also supports the Animal Welfare Enforcement Improvement Act (H.R. 4211), which would end the practice of automatic license renewals under the AWA and would close existing USDA loopholes that allow chronic AWA violators to receive renewed licenses.
Media Contact Information