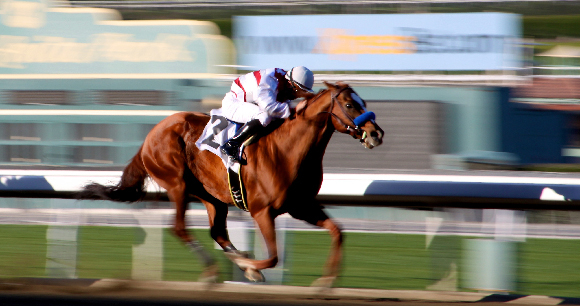 Photo by Underactive
Washington, DC—The Animal Welfare Institute (AWI) commends the U.S. House of Representatives for passing the Horseracing Integrity and Safety Act (H.R. 1754) today. This bill aims to reduce fatalities and injuries that have plagued U.S. horseracing and end the reliance on performance-enhancing drugs to mask pain, inflammation, and other warning signs that often precede catastrophic breakdowns.
The Horseracing Integrity and Safety Act — introduced by Reps. Paul Tonko (D-NY) and Andy Barr (R-KY), co-chairs of the Congressional Horse Caucus — would create an independent anti-doping authority that would set uniform national standards, testing procedures, and penalties for Thoroughbred racing, replacing the inconsistent and often lax regulatory schemes that currently exist among 38 jurisdictions. The nonprofit U.S. Anti-Doping Agency — widely recognized as the nation's premier anti-doping organization — would handle enforcement, laboratory testing, and violations. Importantly, the bill would prohibit race-day medications, aligning U.S. standards with those abroad. The legislation also addresses racetrack safety by creating an accreditation program to ensure that tracks comply with maintenance procedures, as well as a national database to track injuries and fatalities.
Hundreds of horses break down during races each year in the United States — resulting in nearly 10 fatalities per week in recent years, according to The Jockey Club's equine injury database. That number excludes fatalities that occur during training. An overreliance on performance-enhancing drugs contributes to this staggering death toll — one that far exceeds that of other racing jurisdictions around the world. The shocking spate of horse deaths at the famous Santa Anita racetrack outside of Los Angeles — 23 over the course of three months — exposed serious safety and welfare concerns in the racing industry.
Beyond Santa Anita, the recent federal indictments of 27 trainers and veterinarians — "all involved in the cruel and systematic doping of racehorses," according to U.S. Attorney Geoffrey Berman — further underscores the dangerous culture of drug use that permeates professional horseracing and the dire need for reform. As one of the leading trainers at Penn National Race Course testified in federal court, "almost everybody" dopes their horses in order to win — "95% to 98%."
H.R. 1754 amassed an impressive 261 cosponsors in the House, signaling overwhelming support among federal lawmakers to address the serious problems in the horseracing industry. On September 9, Sens. Mitch McConnell (R-KY), Kirsten Gillibrand (D-NY), Martha McSally (R-AZ), and Dianne Feinstein (D-CA) introduced the Senate version of the bill, (S. 4547). With the Senate majority leader supporting the bill, its prospects for passing the Senate this session appear promising. H.R. 1754 and S. 4547 enjoy broad support among animal protection groups and a wide range of stakeholders within the horseracing industry, including the owners/operators of all three Triple Crown racetracks, The Jockey Club, and Breeders' Cup Ltd.
"The senseless loss of life occurring on racetracks must stop now," said Cathy Liss, president of AWI. "The Horseracing Integrity and Safety Act would provide much-needed oversight and directly improve the welfare of racehorses in the United States. We thank Reps. Tonko and Barr, as well as Sens. McConnell, Gillibrand, McSally, and Feinstein, for working to see this legislation to the finish line, and we urge the Senate to quickly send this bill to the president's desk."
"After nearly six years working to advance this bipartisan legislation to modernize horseracing in the United States, we are at long last rounding the final turn," Tonko said. "Our Horseracing Integrity and Safety Act puts the health and well-being of our equine athletes and jockeys firmly at the center of the sport, and delivers commonsense medication and track safety standards that will lift this noble sport to higher standards of integrity and safety. These long overdue reforms will help restore public trust in the sport and put it on a path to a long and vital future, supporting countless jobs and driving economic activity in communities across our nation. I thank my longtime collaborator and friend, Congressman Barr, for leading with me in this effort to restore integrity to our sport of kings. I urge my colleagues in the Senate to advance their companion legislation without delay and deliver it swiftly to the President to sign into law."
"I am thrilled that the Horseracing Integrity and Safety Act passed the House today bringing us one step closer to long-lasting reforms that would preserve the future of the horse racing," said Barr. "This legislation will lead to the creation of uniform national standards for medication and track safety that will protect our equine and human athletes while ensuring our sport can operate safely and effectively. I look forward to this legislation passing the Senate and being signed into law."
###
Media Contact Information