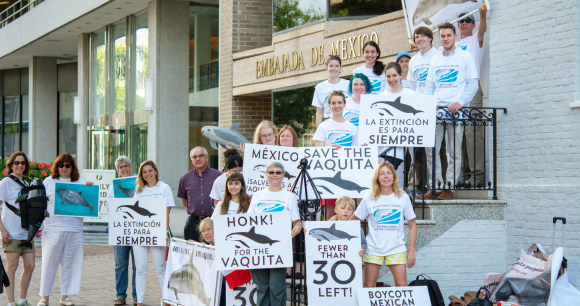 Demonstrators Demand More Robust Enforcement to Save Endangered Porpoise
Washington, DC—Conservation and animal protection organizations rallied outside the Mexican Embassy today to call on the Mexican government to take drastic action to save the fewer than 30 vaquita porpoises left on the planet. Advocates demanded that the Mexican government rigorously enforce laws to protect the rapidly disappearing species.
For decades, vaquita in the Upper Gulf of California have been killed by entanglement in gillnet fishing gear set to catch shrimp and other species. Over the past five years, this tiny porpoise's population has plummeted by 90 percent because of increased use of illegal gillnets to capture endangered totoaba, a large fish whose swim bladder is in high demand in Asia.
On June 28, the UNESCO World Heritage Committee (WHC) postponed an "in danger" listing for Mexico's Islands and Protected Areas of the Gulf of California World Heritage site—home of the critically endangered vaquita. The Gulf of California site was granted World Heritage status in 2005, in part, to protect the vaquita, yet this was the second time the committee delayed the "in danger" designation. If current rates continue, the vaquita will be extinct by 2021.
"We came here today to highlight the pitiful plight of the vaquita. We call on Mexico's newly elected President to make it a priority to save the vaquita and not have its extinction happen on his watch," said Susan Millward, Director of AWI's marine animal program.
Participants at the rally—held in conjunction with the July 7 International Save the Vaquita Day 2018—held signs, wore "Extinction is Forever" t-shirts, and handed out information to the public about the vaquita's plight.
After the rally, AWI's vaquita expert, Kate O'Connell, and representatives from other groups attending the rally met with representatives from the Mexican Embassy. They pushed for the Mexican government to make good on its promise to save the vaquita by imposing a permanent ban on all types of gillnet fishing gear in vaquita habitat and by stepping up enforcement.
Last year, advocates launched a boycott of all shrimp caught in Mexico, in an effort to put financial pressure on the powerful Mexican shrimp industry. The ongoing campaign asks consumers to avoid purchasing shrimp supplied from Mexico at supermarkets, restaurants and other retailers. The shrimp industry needs to work with the Mexican government to remove deadly gillnets from vaquita habit and take steps to recover the species.
To find out how you can help the vaquita, please visit http://boycottmexicanshrimp.com/.