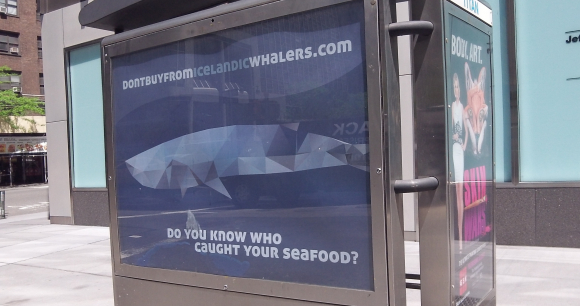 New York—Following a high-profile "Don't buy from Icelandic whalers" ad campaign on the Boston public transit system in March and April, animal protection and conservation organizations are now taking the message to the streets of New York City.
Just as the prior campaign was planned to coincide with Boston's Seafood Expo North America—the largest seafood trade event in North America, the NYC campaign is timed to overlap with the IntraFish Seafood Investor Forum, which opens today at midtown Manhattan's Roosevelt Hotel. The forum brings together top executives from many of the world's largest seafood companies, as well as key investors in the seafood industry.
Among this year's participants at the IntraFish Seafood Investor Forum are companies that are known to have purchased seafood from HB Grandi and/or its subsidiaries in recent years, including the giant multi-national company Marine Harvest.
Advertisements on telephone kiosks near the event ask pedestrians "Do you know who caught your seafood?" and feature an image of a multi-faceted paper whale. Viewers are directed to dontbuyfromicelandicwhalers.com, a website that provides details of the Icelandic companies that hunt—or are linked to those that hunt—hundreds of whales a year in defiance of an international ban.
The organizations are urging seafood companies and investors at the IntraFish Forum not to do business with the giant Icelandic seafood company HB Grandi, which is controlled by the whaling and investment company Hvalur hf. This company plans to kill 770 endangered fin whales over the next five years and sell the meat and blubber to Japan.
In March, the coalition wrote to major US wholesalers and retailers that source Icelandic seafood, urging them to audit their supply chain in order to reassure the public that they are not buying fish from companies linked to whaling.
While several big-name companies, including High Liner Foods and Whole Foods Market, have indicated that they will not proceed with contracts with Hvalur-linked companies until such time as whaling ends, others including United Natural Foods, Inc. (UNFI), have failed to respond to the coalition's request. UNFI, the largest wholesale organic/natural distribution company in the United States, features fish products from Legacy Seafood, known to import from HB Grandi.
Susan Millward, executive director of the Animal Welfare Institute, said "We have already asked seafood companies to avoid buying from Hvalur-linked companies due to consumer concerns. We now call on major seafood investors to make 'whaling-free' an ironclad condition for financing. We want investors to tell the seafood companies 'No whaling or no contracts.'"
"Consumers oppose commercial whaling and are ready to put their money where their mouth is," said Taryn Kiekow Heimer, senior policy analyst for NRDC. "Whaling is bad business, which is why we're urging seafood companies and investors to do the right thing and stop investing in companies tied to Iceland's commercial whaling industry."
Phil Kline, senior ocean campaigner for Greenpeace USA, said, "Americans love whales and are horrified when they learn that the money they spent on a fish fillet has lined the pockets of those responsible for Iceland's whaling. Whaling is bad for the fish business, and the seafood industry can expect more and more Americans to be asking: do you know where your fish comes from?"
Allan Thornton, president of the Environmental Investigation Agency, said "We are appealing to US seafood buyers to help end the illegal killing of internationally protected and endangered fin whales by Hvalur of Iceland by refusing to purchase seafood from HB Grandi or other fish companies linked to Hvalur."
Chris Butler-Stroud, chief executive of Whale and Dolphin Conservation (WDC), stated "Customers the world over are saying a resounding NO! to fish linked with whaling. WDC calls on investors to do the same. Investors should be seeking a win-win product: not a grim-grim business."
Elizabeth Hogan, campaign manager for oceans & wildlife for the World Society for the Protection of Animals (WSPA) said, "Businesses and consumers have the power to make whaling a thing of the past. WSPA encourages all seafood buyers to do their part, and to ensure that their supply chain is not illegally hunting whales."
###
Media Contacts:
Susan Millward, AWI, susan@awionline.org, (202) 446 2123
Josh Mogerman, NRDC Deputy Director of National Media, 773-531-5359
Photographs of the kiosk ads available on request.
Editor's notes
Iceland is one of only three nations that continue to engage in commercial whaling, in defiance of a moratorium imposed by the International Whaling Commission (IWC) in 1982. Iceland has increased its self-allocated whaling quotas in recent years and, in December 2013, announced a five year block quota that could result in the deaths of nearly 2,000 whales, including 770 endangered fin whales.
According to a 2012 poll by the Benenson Strategy Group, 86 percent of the American public believes that America has a moral obligation to protect endangered or threatened species, and 77 percent oppose commercial whaling. A further 66 percent of respondents said that they would be willing to stop buying products from companies engaged in commercial whaling.1
HB Grandi, one of Iceland's largest seafood companies, plays a very active role in Iceland's whaling industry, both promoting whaling and providing its facilities for the processing of endangered fin whale meat for the export market. In 2013, 134 endangered fin whales were killed by the Icelandic whaling company Hvalur, and cut and packed at an HB Grandi facility in Akranes, Iceland. HB Grandi's chairman, Kristján Loftsson, is both the CEO and a lead shareholder of Hvalur hf. 
Animal protection and conservation organizations are calling on US retailers to conduct an audit of their seafood supply chains in order to guarantee to the US public that these retailers do not source seafood from individuals, vessels or companies linked to whaling—including fish from third party agents and/or processors.
 
1.Benenson Strategy Group. (April 2012). Research on attitudes toward commercial whaling. Washington, DC: International Fund for Animal Welfare. The margin of error was ± 3.5% at the 95% confidence value.