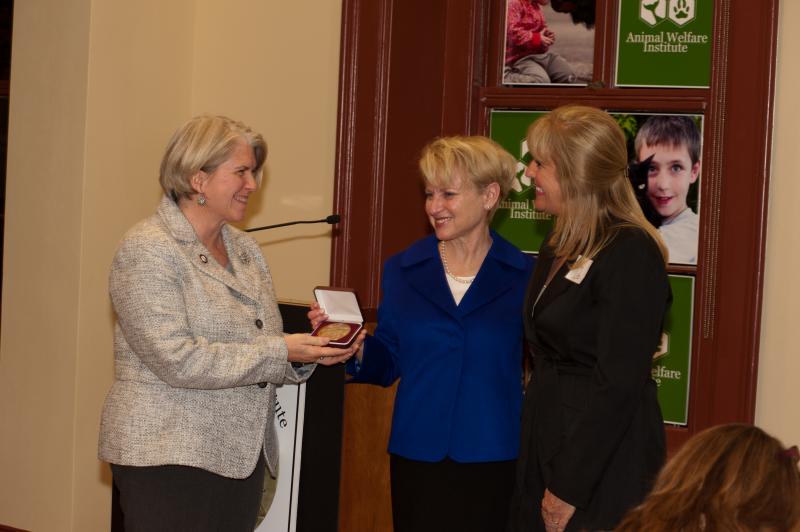 Previous Albert Schweitzer Award Winner Selected As Leader
Richmond, VA—The Animal Welfare Institute (AWI) commends Virginia Attorney General Mark R. Herring for creating the nation's first Attorney General's "Animal Law" unit, which will serve as a resource for local law enforcement and state agencies on issues involving animal welfare and animal fighting or abuse. Michelle Welch, an assistant attorney general and a 2011 winner of AWI's Albert Schweitzer Award, has been selected as the leader of the team.
"We praise Attorney General Herring for establishing this unit and recognizing the importance of animal welfare in Virginia," said Cathy Liss, president at AWI. "We are especially pleased that Michelle Welch will be at the helm of the unit. Michelle's dedication to protecting animals will be a great asset to this new team in addressing cases of dog fighting and animal cruelty."
Welch's nine years of service in the attorney general's office, which has focused extensively on animal-related cases, has earned her numerous accolades, including the Albert Schweitzer Medal, which recognizes outstanding contributions to animal welfare. Welch was awarded the medal in recognition of her unflagging pursuit of criminal convictions against perpetrators of animal cruelty, as well as her pioneering efforts to call attention to these crimes and establish strong animal cruelty and animal fighting prosecutorial programs within her jurisdiction.
"'We've seen firsthand in Virginia that animal fighting is associated with other serious crimes such as drug distribution, possession of illegal alcohol or firearms, assaults, and illegal gambling,'" said Attorney General Herring in a press release issued by the Commonwealth of Virginia. "'This unit won't replace or undermine local law enforcement decisions on whether to investigate or prosecute, but it will formalize the delivery of training and assistance our office already provides for communities who confront situations involving animal fighting, abuse, or neglect.'"
###
Media Contact:
Amey Owen, amey@awionline.org, AWI, (202) 446-2128