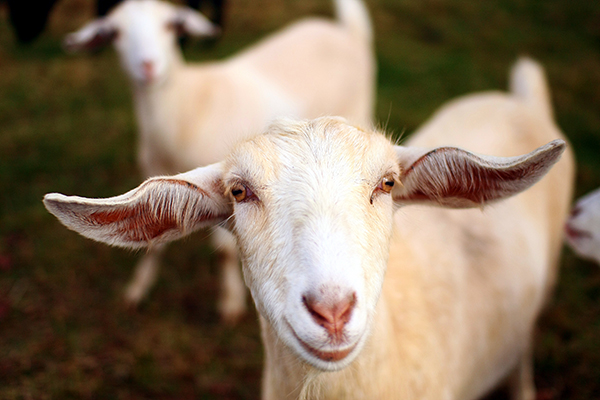 Since 2012, Three Complaints Filed by USDA Against Research Laboratory
Washington, DC—The US Department of Agriculture's case against Santa Cruz Biotechnology, Inc. (SCBT), one of the world's largest research antibody suppliers, is scheduled to be heard by an administrative law judge beginning Tuesday, August 18. The USDA case against SCBT is unprecedented:  it is the first time that three separate complaints for willful violations of the Animal Welfare Act (AWA) have been filed and are pending against a research laboratory.
Over more than a decade, USDA inspectors have cited SCBT for numerous glaring violations of the AWA, including the facility's apparent repeated denial of the existence of a huge additional location housing more than 800 goats used in antibody production, which should have been subject to federal oversight and inspection.
USDA inspection reports and complaints filed against SCBT can be found here. Of particular note are the most recent inspection reports from July 2015 and the third complaint filed August 7, 2015, which demonstrate the continued appalling conduct by this facility.
The most recent complaint alleges that SCBT has "willfully violated" the AWA and "demonstrated bad faith by misleading" USDA personnel. This complaint also documents extreme suffering of goats, including one who suffered and was eventually euthanized with a captive bolt gun by veterinary tech personnel because no veterinarian was available.
The Animal Welfare Institute (AWI), which has led a hard-hitting campaign calling for the USDA to take firm action against SCBT, will provide daily updates on the hearing. AWI's efforts have resulted in thousands of letters to USDA officials, most notably Secretary of Agriculture Tom Vilsack.
"We are hopeful that the USDA will put on a solid case utilizing the extensive documentation it has gathered and that the judge will recognize the grave nature of the alleged violations at SCBT, which have caused needless animal suffering," said Cathy Liss, president of AWI. "We strongly believe that these USDA citations warrant severe penalties, including license revocation or suspension."
WHEN:  
**August 18-21; August 24-28; August 31-Sept. 2
9:00AM-5:00PM
WHERE: Hearing Room, 1037 USDA South Building
1400 Independence Avenue, SW
Washington, DC 20250
** Note: Given the significant nature of this hearing, it is possible that it will be delayed or settled. We encourage all interested media parties to contact AWI and/or visit https://awionline.org/action-ealerts/key-hearing-dc-tuesday-august-18 for updates.**
For more information or to speak with an expert from AWI, please contact Amey Owen at (202) 446-2128 or amey@awionline.org.
###
Media Contact:
Amey Owen, AWI, amey@awionline.org, (202) 446-2128