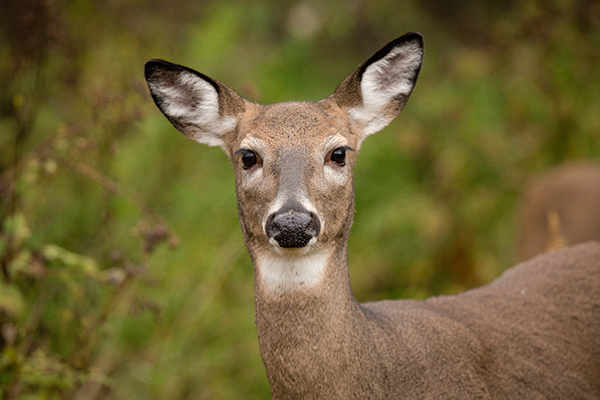 Virginia's First Deer Sterilization Project, Supported by AWI, Moves Ahead
Washington, DC—Humane Deer Management, an organization established by Northern Virginia citizens dedicated to non-lethal control of the region's deer population,launched the second phase of its "Deer Spay Project" today in Fairfax City, Virginia. A five-year surgical sterilization project aimed at reducing deer populations and improving human-deer interactions, the effort is designed to provide the city with a permanent and effective alternative to lethal management.
"Deer management is a significant issue across the country. While lethal management can result in short-term reductions in population, multiple scientific studies have demonstrated that it does not bring long-term stability," said Cathy Liss, president of the Animal Welfare Institute (AWI), which contributed financial support and will provide staff volunteers for the second phase of the project. "We are proud to support this research initiative as a humane, non-lethal, and cost-conscious way for communities like Fairfax City to keep deer populations in check."
In this week-long second phase, directed by wildlife biologist Anthony J. DeNicola, doe will be safely and humanely darted with a remote injection tranquilizer, and transferred to a mobile surgical unit where their ovaries are removed by specially trained veterinarians. The Virginia Department of Game and Inland Fisheries has previously granted approval for the use of corn at bait stations and spotlighting throughout the city, which is expected to increase the number of captured deer.
"The city has been seeking to explore a creative, non-lethal method for managing the growing deer population in our area," said City of Fairfax Mayor R. Scott Silverthorne, who endorsed the project in December 2013 and has been working with the city's Police Department to assist with the project. "The results of the project will be invaluable in our assessment and help us determine how we can curtail populations without resorting to inhumane methods."
In phase one, which also took one week and was completed in February 2014, 18 does—an estimated 48 percent of the City's female deer population—were darted and surgically sterilized. There were no deaths or injuries associated with the capture or surgery, and a long-term pain killer and long-acting antibiotic were given prior to release. Ear tags and radio-tracking collars were also placed on the deer for future tracking.
The project aims to sterilize most of the does in the area by the end of next year. Afterwards, project managers will focus on any new does that migrate into the city. Project researchers hope to demonstrate that the reduction in births, along with the average 10 to 15 percent mortality rate projected among deer in suburbia, will result in a smaller, more sustainable herd over time.
To learn more about AWI's support of the Deer Spay Project and stance on deer sterilization projects, visit http://awionline.org/deer-spay.
###
Media Contact:
Amey Owen, amey@awionline.org, AWI, (202) 446-2128
About the Animal Welfare Institute
The Animal Welfare Institute (AWI) is a non-profit charitable organization founded in 1951 and dedicated to reducing animal suffering caused by people. AWI engages policymakers, scientists, industry, and the public to achieve better treatment of animals everywhere—in the laboratory, on the farm, in commerce, at home, and in the wild. For more information on AWI, visit www.awionline.org.
About Humane Deer Management
Humane Deer Management is a group of individuals in Northern Virginia who have been active in deer management issues with the local government and private groups for several years. Comprised of veterinarians, a wildlife biologist, veterinary technicians, and local volunteers, the group pioneered the Deer Spay Program in Fairfax City, VA, in 2014.