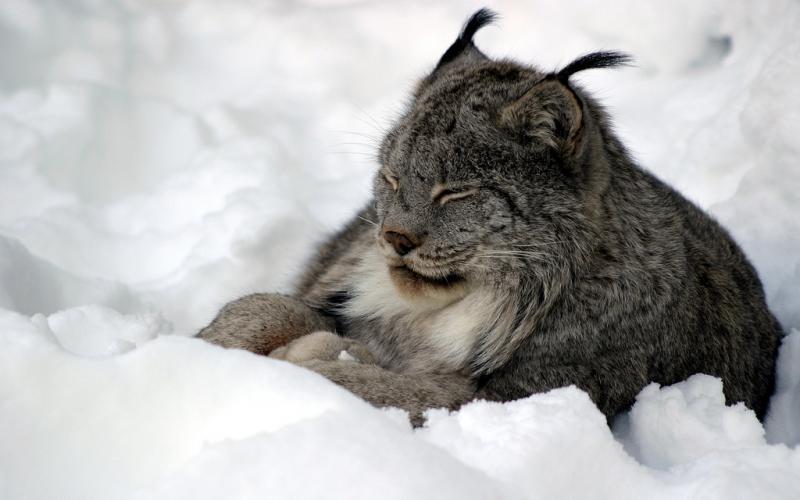 BANGOR, ME—Wildlife advocate organizations, including the Animal Welfare Institute, the Center for Biological Diversity, and the Wildlife Alliance of Maine, are offering an $8,000 reward for information leading to convictions for the shootings of two protected Canada lynx last month in Maine, bringing the total reward offered to $19,000 from nonprofit, state and federal sources. The two lynx were shot and killed in mid-November, according to a Friday announcement by Maine wildlife officials.
Wardens believe one was shot sometime around November 15 with a rifle on a logging road in western Maine, near Aziscohos Lake in northern Oxford County. That lynx was wearing a GPS collar attached in 2015 by Maine Department of Inland Fisheries and Wildlife. The other endangered cat was found shot dead on November 17 in a legally set steel-jaw leghold trap along a logging road in Aroostook County. No suspects have been identified in either case.
"With this latest evidence of the dangers faced by lynx in the Maine woods, we're concerned with how many other lynx have been killed and not discovered," said Daryl DeJoy, executive director of the Wildlife Alliance of Maine. "These unnecessary deaths are troubling and frustrating to those of us working for stronger lynx protections."
In November a federal court in Bangor, Maine, heard oral arguments on the wildlife advocates' challenge to the trapping permit issued by the US Fish and Wildlife Service to Maine. The lawsuit argues that the permit violates both the Endangered Species Act, which requires that harm to lynx be minimized and mitigated, and the National Environmental Policy Act, which requires a proper analysis of environmental impacts. The wildlife advocates are represented by the Environmental and Natural Resources Law Clinic at Vermont Law School.
"The disturbing killings of these two beautiful, wild cats illustrate why we sued for changes to Maine's harmful trapping program," said Collette Adkins, an attorney and biologist at the Center. "The commonsense protective measures we're seeking could have prevented the trapping of the lynx in Aroostook County. I'm hopeful the court will recognize that more changes are needed to protect lynx from cruel traps."
"Doing what is necessary to protect threatened and endangered species must be the number one priority," said Cathy Liss, president of the Animal Welfare Institute. "Those responsible for these heinous and illegal killings must be brought to justice and be subject to the full complement of penalties under the law."
Canada lynx are protected as "threatened" under the federal Endangered Species Act, and these illegal killings can result in fines up to $100,000 and up to one year in prison.
###
Media Contact:
Amey Owen, Animal Welfare Institute, (202) 446-2128, amey@awionline.org
About the Animal Welfare Institute
The Animal Welfare Institute is a nonprofit charitable organization founded in 1951 and dedicated to reducing animal suffering caused by people. AWI engages policymakers, scientists, industry, and the public to achieve better treatment of animals everywhere—in the laboratory, on the farm, in commerce, at home, and in the wild. For more information, visit www.awionline.org.
About the Center for Biological Diversity
The Center for Biological Diversity is a national, nonprofit conservation organization with more than 1.1 million members and online activists dedicated to the protection of endangered species and wild places.
About the Wildlife Alliance of Maine
The Wildlife Alliance of Maine is dedicated to advocate on behalf of Maine's wildlife and to promote a conservation ethic that represents non-consumptive wildlife users.