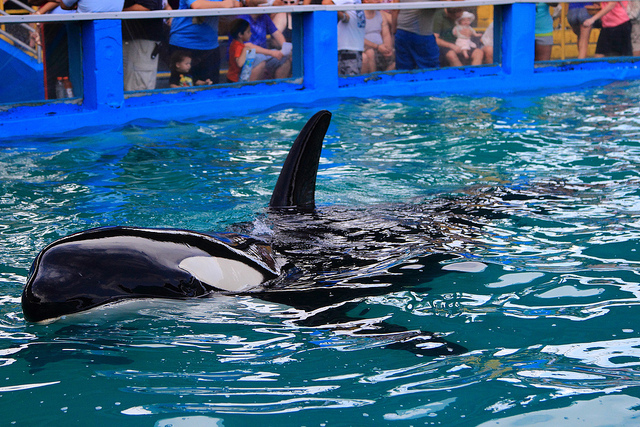 Washington, DC—Today, the National Oceanic and Atmospheric Administration (NOAA) announced it will officially list Lolita, the lone orca at the Miami Seaquarium, as a member of the endangered Southern Resident Killer Whales (SRKWs).
The SRKWs were recognized as an endangered "distinct population segment" under the Endangered Species Act (ESA) in 2005. Today there are only 77 of these whales left. Lolita is the last surviving member of this population in captivity, after dozens were captured in the 1960s and 1970s and have died over the years. NOAA originally claimed that her decades in captivity and her original capture date of 1970 justified excluding her from the listing. However, this decision was inconsistent with how the agency treats other captive members of endangered species. A petition was submitted in 2013 to include her in the ESA listing, and NOAA has now agreed that its original decision to exclude her was incorrect.
"This is a fantastic sea change for Lolita," said Dr. Naomi Rose, marine mammal scientist for AWI. "For years, she has been held without companions of her own species. Her tank is the smallest in the world for an orca—her tail touches the bottom when she rests vertically in the water. The ESA is a much stronger law than the Animal Welfare Act and specifically allows citizens to sue on behalf of animals and species. Lolita now has a chance for a better life, after 45 years in a box."
There are efforts to return Lolita to her home waters of Puget Sound, to live the rest of her life in retirement, in natural surroundings. The decision to list her as endangered does not guarantee this outcome, but the chances of such a move increase substantially with this decision. Based on NOAA's announcement, it is probable that the Miami Seaquarium will have to apply for an ESA permit to keep Lolita. AWI will remain involved in any forthcoming regulatory processes arising from Lolita's new status under the ESA.
###
Media Contact:
Amey Owen, 202-446-2128, amey@awionline.org