Jo Fritz
Primate Foundation of Arizona
I have been blowing (and waving!) bubbles for 30 years and it only dawned on me recently that it is not listed on anyone's environmental enrichment list! You know the jar with the wand - we have all played with it.
There are multiple brands (my opinion - some brands blow larger bubbles than others but find out for yourself... I will not extol one brand over another!). It does require some staff time, but if you can spare them... my experience has been that you might as well call it a "coffee break"! They work at blowing a larger bubble than they ever did as a child... or standing in front of a breeze to have tiny bubbles blow directly into a cage.
The chimpanzees are fascinated with the bubbles floating... run around sticking out their tongues, much as a child collecting snowflakes, and attempting to catch them - a bit bewildered as it disappears. They are even fascinated watching the human attempting to make a LARGE one.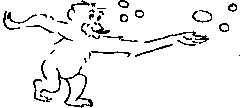 Try it! The solution can be easily found in any toy department store at K-Mart, WalMart, drug stores. .. that's half the fun...cruising the toy department. It is non-toxic and has been approved by our Veterinary Department (they blow and wave too!). Have fun!
---
More Bubbles Power: A Bubble Machine
Jo Fritz
Primate Foundation of Arizona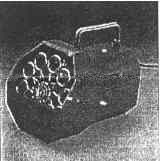 We've also found a bubble machine to be an effective way to provide lots of bubbles in a short amount of time! You can set it up, and fill a room with tiny, floating, bubbles. The chimpanzees love it! The device is a 61/2" x 5" x 4/12" bubble machine. Each machine holds approximately 8 ounces of your favorite bubble fluid. The machine can be run on batteries or plugged in to any wall socket. They can be purchased through the Oriental Trading Company (current listed price $29.95, bubble fluid sold separately) (1-800-875-8480 or www.oriental.com).
---
Reproduced with permission of the editor.
Published in The Newsletter of the Primate Foundation of Arizona, Vol. 11 (3), 2000.