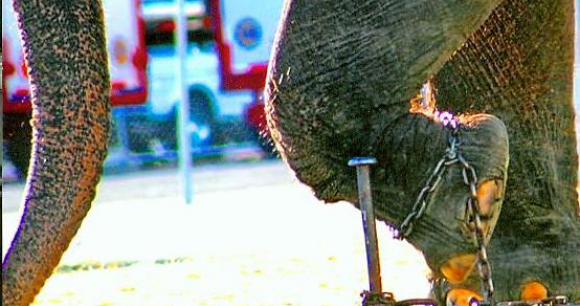 Washington, DC—The Animal Welfare Institute (AWI) welcomes today's Associated Press (AP) report that Ringling Bros. and Barnum & Bailey Circus will phase out its elephant acts by 2018. All 43 of Ringling's captive elephants will be retired to a central Florida property owned by Ringling's parent company, Feld Entertainment. According to the AP, the decision was prompted by "growing public concern about how the animals are treated."
"This is a monumental and long overdue decision," said Cathy Liss, president of AWI, which filed a lawsuit in 2000 against the Ringling Bros. and Barnum & Bailey Circus to halt the mistreatment of endangered Asian elephants including use of bullhooks, chains and debilitating confinement. "AWI has worked for many years to expose the inhumane treatment of elephants and other animals held by circuses around the world. Circus elephants in particular are subjected to brutal training methods to force compliance with complicated 'tricks,' as well as long periods of chained confinement when hauled around to shows. We are pleased that Ringling has agreed to abandon this outdated spectacle, and hope it will opt to proceed more quickly."
In 2011, Feld entered into a settlement agreement with the U.S. Department of Agriculture whereby the company agreed to pay $270,000—the largest civil fine ever against an exhibitor of animals. The settlement stemmed from USDA inspections conducted between 2007 and 2011 that allege multiple violations of the Animal Welfare Act. Among the inspection reports' allegations were Ringling circus handlers forcing an elephant to perform when she was ill and required medication for pain; inadequate diagnosis and treatment plan for an elephant with chronic lameness; and enclosures for elephants and tigers in such poor condition—with broken, protruding wires and rusty, deteriorated and jagged edges—that they posed a threat to the animals.
Concern over the treatment of animals in circuses led former U.S. Congressman Jim Moran, the longtime co-chair of the Congressional Animal Protection Caucus, to introduce the Traveling Exotic Animal Act into the House of Representatives last year. In his press release, Congressman Moran stated that "[f]rom video and photographic evidence, it's clear that traveling circuses aren't providing the proper living conditions for exotic animals. This legislation is intended to target the most egregious situations involving exotic and wild animals in traveling circuses. The mounting evidence of inhumane treatment and the growing public concern for these animals demands that we reconsider what are appropriate living conditions for these intelligent, social creatures."
For more information on AWI's litigation against Ringling Bros. and Barnum & Bailey Circus, visit http://awionline.org/cases/protection-asian-elephants#media.
###
Media Contact:
Amey Owen, 202-446-2128, amey@awionline.org