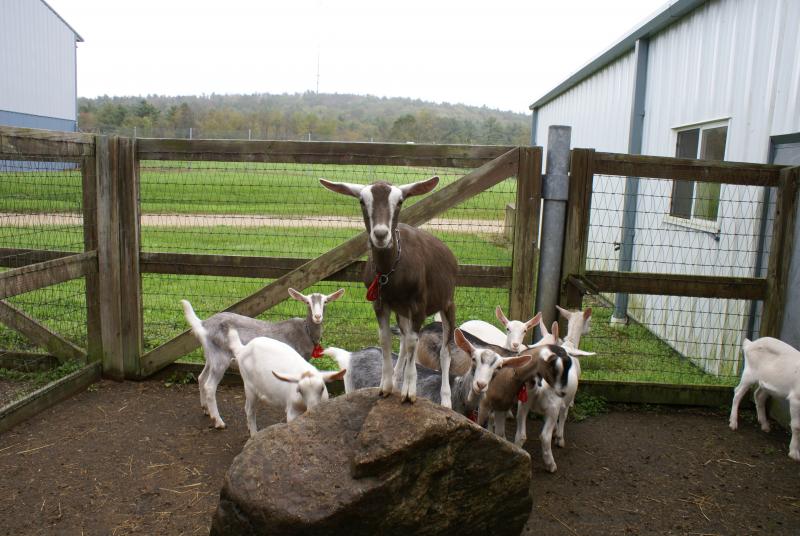 The Animal Welfare Institute (AWI) today called upon Secretary of Agriculture Tom Vilsack to immediately revoke the dealer license of Santa Cruz Biotechnology, Inc. (SCBT)—one of the nation's largest commercial suppliers of research antibodies—in connection with apparent egregious violations of the Animal Welfare Act (AWA). In addition, AWI has asked National Institutes of Health (NIH) Director Francis Collins to close a loophole in the Public Health Service (PHS) Policy on Humane Care and Use of Laboratory Animals that permits SCBT to supply antibodies from animals to NIH grantees without being required to submit a Statement of Animal Welfare Assurance to PHS. (Such an assurance statement represents an institution's commitment to comply with the AWA and other federal laws and regulations and accept responsibility for the care and use its animals.)
USDA inspection reports reveal a chronic problem of failing to provide goats with much needed veterinary care.  USDA inspectors noted goats who were lame, had respiratory conditions, were anemic, had skin conditions, and were extremely thin, with "protruding hips, ribs and spinal processes."  During inspections conducted between July 2007 and December 2012, USDA cited SCBT on 13 separate occasions for failure to provide adequate veterinary care for goats used for blood collection, including citations for inadequate veterinary care at 9 separate inspections conducted in 2012 alone. USDA has filed a complaint against SCBT and an investigation is open and ongoing.
According to an April 19, 2012 report, a goat with a broken leg had lost his cast and was in pain, yet the veterinarian stated that "she had not had time to attend to the goat in the last three days…she was unable to keep up with the workload…and there were insufficient support staff to provide for the medical care of the regulated animals at the facility."
Despite the suffering and poor condition of some of the goats, SCBT persisted in drawing blood for antibody production. A May 5, 2010 USDA inspection report states that "Continuing to use these animals for antibody production with their history of medical conditions caused them unnecessary discomfort, distress, and pain….Animals with chronic and significant medical conditions are not suitable subjects for antibody production."
An October 31, 2012 USDA inspection report further indicates that SCBT also knowingly made false statements to USDA inspectors. "SCBT staff, including veterinarians and facility management, repeatedly denied the existence of an entire antibody production site—one that housed 841 goats—even when asked directly by USDA veterinary inspectors," said Cathy Liss, AWI's president. "This suggests a brazen and unprecedented deception by SCBT, with the apparent intent to circumvent federal law. This warrants the strongest enforcement action possible by USDA."
Copies of AWI's letters to USDA and NIH, the full USDA inspection reports on SCBT, and the USDA Complaint against SCBT can be found on the AWI website at http://awionline.org/SCBT.
The Animal Welfare Institute (www.awionline.org) is a non-profit charitable organization founded in 1951 and dedicated to reducing animal suffering caused by people. AWI engages policymakers, scientists, industry, and the public to achieve better treatment of animals everywhere—in the laboratory, on the farm, in commerce, at home, and in the wild.
Media Contact:
Cathy Liss, President, Animal Welfare Institute, 703-568-4457, cathy@awionline.org