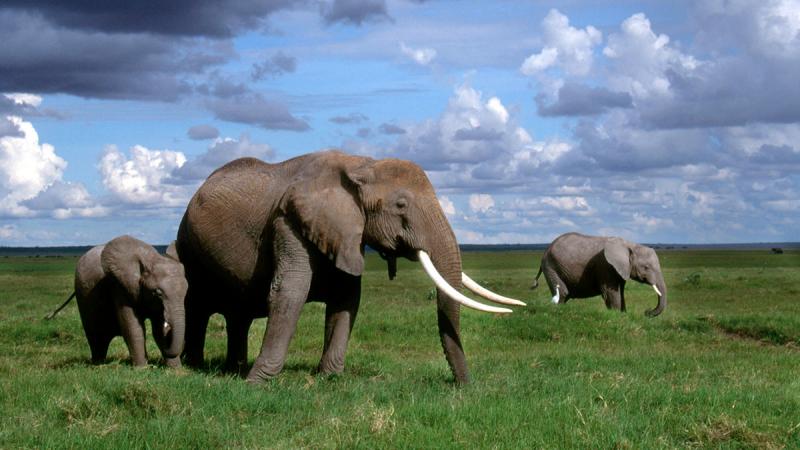 Washington, DC—Fifty-four members of the US House of Representatives sent a letter today to Secretary of the Interior Sally Jewell, urging the United States to vocally and strongly support the highest level of protections for African elephants at the upcoming triennial Conference of the Parties to the Convention on International Trade in Endangered Species of Wild Fauna and Flora (CITES) in Johannesburg, South Africa.
The letter, initiated by Rep. Don Beyer (D-VA), specifically calls on the US delegation to support an Appendix I listings for all African elephants. Appendix I affords the highest standard of international protection and would prohibit all commercial ivory trade. Currently, elephants in Botswana, Namibia, South Africa and Zimbabwe are classified under Appendix II, thereby facilitating the sale of ivory around the world.
"The simple truth is that a lawful international market for elephant ivory ultimately encourages widespread poaching and illegal trade," said Rep. Beyer. "History has shown a CITES Appendix I listing of all African elephants to be a particularly effective means of protecting these incredible animals whose numbers have been declining dramatically in recent years."
As the letter states, "Although African elephants were classified under Appendix I in 1989—with strong US support—CITES subsequently down-listed the elephants of Botswana, Namibia, South Africa and Zimbabwe, in addition to authorizing 'one-off experimental' sales totaling about 150 tons of ivory. These actions provided a rejuvenated market into which enormous volumes of contraband ivory is being laundered."
"It is critically important," the letter adds, "for the United States to announce its support for the CITES Appendix I listing of all African elephants, and to give that support substance by presenting interventions and casting votes at the CITES upcoming meeting."
Under the George H.W. Bush administration, the United States played a leading role in achieving the 1989 Appendix I listing. From 1989 to 1997, all African elephant populations were listed on Appendix I; during this period—prior to the split-listing that occurred in 1997—elephants enjoyed a reprieve from intense poaching pressures and populations started to recover.
In view of the current and unprecedented poaching crisis, 29 countries of the African Elephant Coalition are submitting a proposal to restore all African elephants to CITES Appendix I. According to the congressional letter, "these countries, which represent the vast majority of African elephant range states, have suffered intense poaching in recent years and are appealing for support in their efforts to suppress the criminal exploitation of their elephants."
Earlier this month, the World Conservation Congress of the International Union for Conservation of Nature took a momentous step by calling on all governments to ban the domestic trade in ivory. This vote comes on the heels of newly released and comprehensive data from the Great Elephant Census, which corroborated a catastrophic decline in elephant numbers across Africa.
"The voting member nations of CITES have the chance to take concrete action that would help stop the wholesale slaughter of some of the most magnificent and complex animals on Earth," stated Cathy Liss, president of the Animal Welfare Institute. "We urge Secretary Jewell and Director Ashe, as head of the US delegation, to heed the call from these members of Congress and ensure that our government does not stand idly by while the carnage that fuels the global ivory trade continues."
AWI is asking the public to show support for all African elephants by signing a Change.org petition, which encourages CITES member parties to protect the species and extinguish any possibility of a legalized ivory trade.
###
Media Contact:
Amey Owen, amey@awionline.org, (202) 446-2128