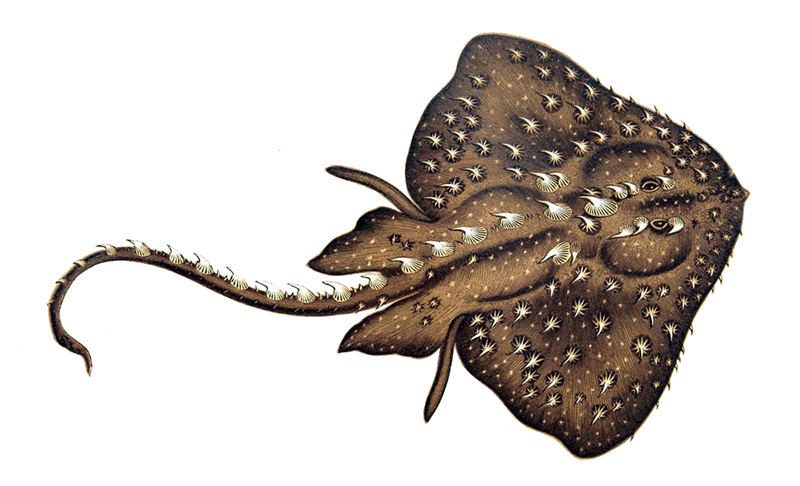 Washington, DC—The Animal Welfare Institute (AWI) and Defenders of Wildlife (Defenders) filed a petition today with the National Marine Fisheries Service (NMFS) to list the Northwest Atlantic population of the thorny skate (Amblyraja radiata), a species of fish, as threatened or endangered under the Endangered Species Act (ESA).
Thorny skate populations in the Northwest Atlantic have declined rapidly over the past four decades, particularly in US waters, where numbers are at a historic all-time low. The International Union for the Conservation of Nature designates the US population of thorny skate as "critically endangered," its highest level of threat assessment (short of extinct in the wild).
The decline in thorny skate populations is mostly due to excessive bycatch mortality and illegal harvest. Efforts to rebuild the populations by the US and Canada have failed, and best available science indicates population numbers remain critically low. Listing thorny skates under the ESA may be the only way to save this species in US waters.
"The National Marine Fisheries Service and its Canadian counterpart have completely failed to reform the many fishing practices that are threatening the survival of this species," said D.J. Schubert, AWI wildlife biologist. "These agencies are clearly and irresponsibly placing the interests of the commercial fish industry over the survival and recovery of the thorny skate."
AWI previously submitted a similar petition to list thorny skates in 2011, which NMFS rejected, claiming that the scientific evidence did not warrant a listing. Internal agency documents obtained under the Freedom of Information Act, however, revealed that NMFS had initially planned to publish a positivefinding, but then inexplicably changed its mind. The new petition provides additional evidence of the populations' decline and undeniably demonstrates that the species warrants an ESA listing.
"This species is in serious trouble in the Northwest Atlantic, and if we don't move to protect it now, we may never see it in this range again," says Senior Staff Attorney Jane Davenport at Defenders of Wildlife. "Preserving biodiversity and healthy population levels for all marine species is the key to ocean health."
###
Media Contact:
Amey Owen, 202-446-2128, amey@awionline.org
About Animal Welfare Institute
The Animal Welfare Institute (AWI) is a nonprofit charitable organization founded in 1951 and dedicated to reducing animal suffering caused by people.  AWI engages policymakers, scientists, industry, and the public to achieve better treatment of animals everywhere—in the laboratory, on the farm, in commerce, at home, and in the wild.  For more information on AWI, visit www.awionline.org.
About Defenders of Wildlife
Defenders of Wildlife is dedicated to the protection of all native animals and plants in their natural communities. With more than 1.2 million members and activists, Defenders of Wildlife is a leading advocate for innovative solutions to safeguard our wildlife heritage for generations to come. For more information, visit http://defenders.org.