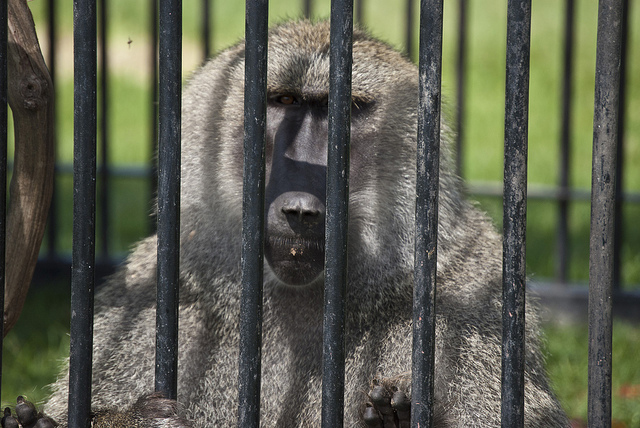 Washington, DC—The Animal Welfare Institute (AWI) revealed today that the US Department of Agriculture filed a complaint earlier this year against Wild Wilderness, Inc., a notorious Arkansas tourist attraction operated by the Wilmoth family that exhibits domestic, wild and exotic animals. The complaint, filed on January 9, details repeated allegations of egregious Animal Welfare Act (AWA) violations against the exhibitor.
The USDA has already taken multiple enforcement actions against the exhibitor, dating back over 20 years—including three formal complaints. This most recent complaint, which alleges that Wild Wilderness has "willfully violated" the AWA, describes a multitude of extremely disturbing incidents from January 2012 to November 2016, including the following:
A young lion was found dead in his enclosure, strangled by his collar.
Two ring-tailed lemurs were found out of their enclosure chewing on live electrical wire.
A spider monkey was exposed to such extreme cold that he developed frostbite on his hands and feet and lost several digits.
An olive baboon chewed the end of his tail until it was completely severed. The inspectors who witnessed the tail falling to the ground wrote that it looked like a "dried piece of meat."
A gray wolf hybrid and an antelope were each found unable to bear weight on a front limb, while a rhesus monkey could not move his arm, tucking it in close to his body.
Excessive amounts of feces, a lack of water, or water with algae and other contaminants were found in animals' enclosures.
"This is one of the worst exhibitors in the country and has been for decades. It is appalling that they have been allowed to continue to operate," said Cathy Liss, president of AWI. "Enough is enough. We strongly urge the USDA to seek revocation of Wild Wilderness' exhibitor license, as well as a meaningful fine."
According to the complaint and prior news reports, the facility poses a danger not only to its reported 886 animals (as of 2016), but also to visitors and its workers. Notable incidents involving harm to people include the following:
The park allowed a visitor to have direct contact with a lion. According to inspectors, this "uncontrolled" lion cub bit or scratched the visitor, requiring medical attention.
A worker had her arm pulled into an enclosure by a chimpanzee who bit off much of her hand, including two fingers.
Visitors climbed out of a car to pet an adult tiger through a cage, and the animal bit one of the visitors, stripping the flesh from her finger.
Two workers were mauled by cougars during an attempted cage transfer. One worker suffered multiple bites to an arm and leg and was airlifted to a hospital. The other worker was bitten in the face and transported to a local hospital.
 
Incorporated in 1979, Wild Wilderness operates both a drive-through zoo and an adjacent walk-through zoo and petting area. In January 2012, the exhibitor was issued an official warning by the USDA for alleged AWA violations. Previous fines were levied by the USDA in 1992, 1998, 2002, and 2008. In 2002, Freddy Wilmoth, then-operator of the park, was sentenced to a six-month home confinement and a three-year probation and ordered to pay $10,000 in restitution after pleading guilty to violating the Endangered Species Act by brokering the sale of four tigers. According to media reports, Wilmoth convinced a veterinarian to sign a certificate that the tigers were old and deformed, telling her they would be sold at an auction.Instead, the tigers were subsequently killed for their hides and other body parts.
Click here to view the full complaint.
###
Media Contact:
Amey Owen, (202) 446-2128, amey@awionline.org
USDA Enforcement Action
January 09, 2017 USDA Complaint Against Wild Wilderness Inc.
USDA Inspection Reports