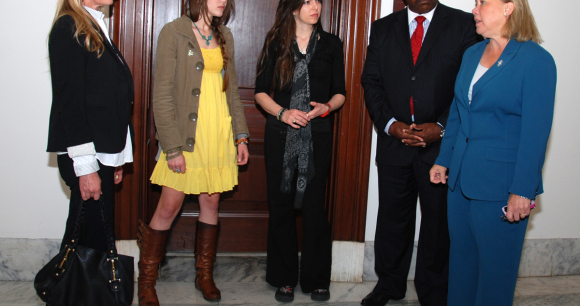 FOR IMMEDIATE RELEASE
"Horses on the Hill" event urges Congress to pass American Horse Slaughter Prevention Act
(April 25, 2012)–As part of the "Horses on the Hill" event, celebrities, school children and citizen advocates joined Sen. Mary Landrieu, D-La., sponsor of the American Horse Slaughter Prevention Act (S. 1176 / H.R. 2966), at the Capitol to urge legislators to permanently protect our nation's horses from inhumane slaughter. The event was co-hosted by the Animal Welfare Institute, the ASPCA (the American Society for the Prevention of Cruelty to Animals), and The Humane Society of the United States.
Participants, including actress Bo Derek, Lorenzo Borghese from ABC's "The Bachelor," local school children and young equestrians, met with elected officials to seek their support in passing the American Horse Slaughter Prevention Act. This bill would prohibit the inhumane killing of American horses for human consumption in the United States and stop the transport of horses across the border to Canada and Mexico for slaughter. The passage of this critical legislation would end the current export and slaughter of approximately 100,000 American horses each year. Other participants included: nine-year-old Declan Gregg, founder of Children 4 Horses; John Boyd, president of the National Black Farmers Association; and equine welfare organizations, such as Animals' Angels, Gentle Giants Draft Horse Rescue, and the Seraphim12 Foundation.
"There are viable, affordable alternatives to slaughter. When a horse is old, sick, or can no longer be productive, its owner should provide humane euthanasia," said Sen. Mary Landrieu, D-La. "Ninety percent of all horses that die each year are humanely euthanized and/or safely disposed of–this additional 10 percent is not a burden. Horse owners will buy some of these horses and horse rescue organizations will take others. Brutal slaughter is not an appropriate alternative."
"I am proud to be working with my colleagues Sen. Landrieu and Rep. Schakowsky in support of the American Horse Slaughter Prevention Act," said Rep. Dan Burton, R-Ind. "In light of the horse meat inspection funding ban that was lifted last year in the Agriculture Appropriations bill, now is the time–more than ever–to push for a permanent ban by passing the bill. I believe in the importance of treating all horses as humanely and respectfully as possible, and would like to thank all of my colleagues who have joined me in support of this bill who feel the same way."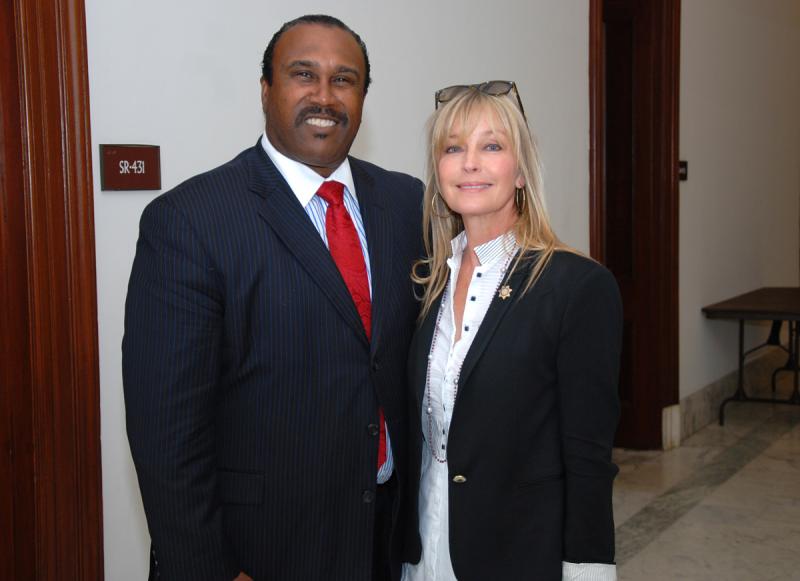 "The people in attendance today represent the 80 percent of Americans who oppose the slaughter of American horses," said Rep. Jim Moran, D-Va. "As pro-slaughter business interests seek to restart and expand the industrial killing of United States horses for human consumption, Congress can put a stop to this abhorrent practice by passing the American Horse Slaughter Prevention Act."
"Horses are not available for human consumption in the United States like cows, pigs, and chickens," said Rep. Ed Whitfield, R-Ky. "There is not one horse slaughter plant in the United States and the public supports a ban on horse slaughter.  We must protect American horses from being slaughtered and shipped to European and Asian meat markets."
"The bill, which has had strong support from a majority of Congress and the American public, is long overdue," said Chris Heyde, deputy director of government and legal affairs for the Animal Welfare Institute. "For years, I have pleaded with the pro-horse slaughter camp to stop misleading the public but they are more concerned with wringing a few bucks from a suffering animal than doing what is right. Thankfully we have the majority of Congress advocating for America's horses."
"The overwhelming majority of Americans are intensely opposed to this gruesome practice and contest the use of tax dollars to fund an inherently cruel industry," said Nancy Perry, senior vice president of ASPCA Government Relations. "We stand with a large group of bipartisan leaders on Capitol Hill who have already declared that they will be pressing for accountability and recorded votes on this issue."
"Congress should act with great haste to close our national borders to the horse slaughter pipeline and prevent this mistreatment of animals from resuming in the United States," said Keith Dane, director of equine protection for The HSUS. "Americans don't eat horses, and they don't want them inhumanely killed, shrink-wrapped, and sent to Japan or Belgium for a high-priced appetizer."
In November 2011, Congress chose not to renew a ban on funding federal inspectors at horse slaughter plants in the United States, opening the door for a return of horse slaughter to American soil, despite broad opposition in this country to the practice. A January 2012 national pollcommissioned by the ASPCA confirms that 80 percent of American voters oppose the slaughter of horses for human consumption.
Horse slaughter is inhumane and the methods used to kill horses rarely result in quick, painless deaths, as horses often endure repeated stuns or blows and sometimes remain conscious during their slaughter and dismemberment. The majority of horses killed for human consumption are young, healthy animals who could go on to lead productive lives with loving owners.
MEDIA CONTACTS:
AWI: Chris Heyde, 202-446-2142, chris@awionline.org
ASPCA: Rebecca Goldrick, 646-291-4582, Rebecca.Goldrick@aspca.org
HSUS: Stephanie Twining, 301-258-1491, stwining@humanesociety.org
Office of Sen. Mary Landrieu: Samantha Schott, 202-224-4893, media@landrieu.senate.gov
About the AWI
The Animal Welfare Institute is a non-profit charitable organization founded in 1951 to alleviate the suffering caused to animals by humans. For more information, please visit AWI online at http://www.awionline.org/.  Also, be sure to follow AWI on Facebook at http://www.facebook.com/animalwelfareinstitute and Twitter at http://www.twitter.com/AWIOnline.
About the ASPCA®
Founded in 1866, the ASPCA® (The American Society for the Prevention of Cruelty to Animals®) is the first humane organization established in the Americas and serves as the nation's leading voice for animal welfare. One million supporters strong, the ASPCA's mission is to provide effective means for the prevention of cruelty to animals throughout the United States. As a 501(c)(3) not-for-profit corporation, the ASPCA is a national leader in the areas of anti-cruelty, community outreach and animal health services. The ASPCA, which is headquartered in New York City, offers a wide range of programs, including a mobile clinic outreach initiative, its own humane law enforcement team, and a groundbreaking veterinary forensics team and mobile animal CSI unit. For more information, please visit www.aspca.org. To become a fan of the ASPCA on Facebook, go to http://www.facebook.com/aspca. To follow the ASPCA on Twitter, go to http://www.twitter.com/aspca.
About the HSUS
Follow The HSUS on Twitter. See our work for animals on your iPhone by searching "HumaneTV" in the App Store.
The Humane Society of the United States is the nation's largest animal protection organization — backed by 11 million Americans, or one of every 28. For more than a half-century, The HSUS has been fighting for the protection of all animals through advocacy, education and hands-on programs. Celebrating animals and confronting cruelty — On the Web at humanesociety.org.
###