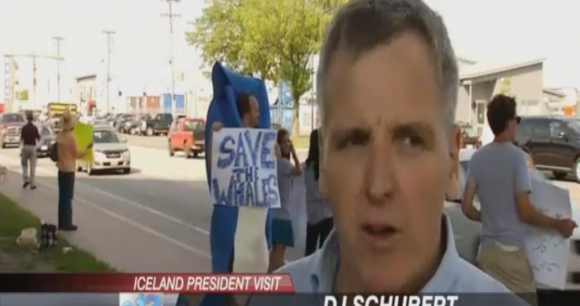 Message Sent to Iceland's President that Commercial Whaling Must End
The Animal Welfare Institute and other U.S. animal protection and conservation groups organized a rally in Portland, Maine, on May 31, 2013, to protest Iceland's expanding commercial whaling program. The rally coincided with Maine's International Trade Day, featuring the president of Iceland, Ólafur Ragnar Grímsson, as keynote speaker.
Since Iceland resumed whaling in 2003 in defiance of an international ban on commercial whaling, its whalers have killed 496 minke whales and 280 endangered fin whales and exported over 2,800 metric tons of whale products to Japan. Although Iceland did not hunt fin whales in 2011 and 2012, Kristján Loftsson, head of the Hvalur whaling company and Chairman of the Board of HB Grandi, one of Iceland's largest fishing companies, has announced plans to kill as many as 184 fin whales this summer, starting in early June. The hunt will produce thousands of tons of whale meat and blubber. At just over 320,000, the population of Iceland is smaller than that of Greater Portland, Maine, and cannot possibly consume this quantity of meat. Most will be shipped to Japan, where AWI recently found whale meat on sale as dog treats.
The Event
Maine's International Trade Day is described as "Northern New England's premier annual international-focused business event bringing together more than 250 leading professionals from Maine, New England, and Canada to discuss new developments, current challenges, and future opportunities in international trade."
Icelandic President Grímsson gave the keynote address at a noon luncheon and spent the afternoon touring the recently renovated Port of Portland before attending a 4 p.m. reception at the Portland facilities of Eimskip, Iceland's oldest shipping company. Eimskip recently made Portland its only port of call in the United States, with 5,000 containers expected to pass through Portland annually. Since it began shipping to Portland, Eimskip has already begun delivering fish exported to the United States by HB Grandi, as well as other products from companies linked to Kristjan Loftsson and his Hvalur whaling company.
Rally attendees armed with inflatable whales and signs lined the route to the port and hundreds of passing cars honked in support. Local TV news station Channel 13 covered the event and interviewed AWI's D.J. Schubert. The Channel 13 news segment on the rally was broadcast after the station's interview with the Icelandic president.