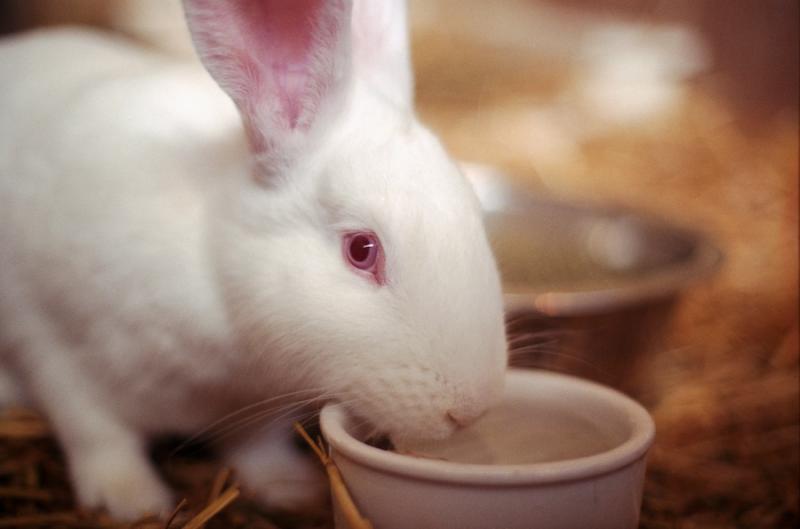 Washington, DC—The Animal Welfare Institute (AWI) applauds Representatives Martha McSally (R-AZ), Don Beyer (D-VA), Joe Heck (R-NV), and Tony Cárdenas (D-CA) for introducing the Humane Cosmetics Act (H.R. 2858). This bipartisan bill would phase out the use of animal testing for cosmetics manufactured or sold in the United States.
"Subjecting animals to painful and inhumane testing is not who we are as a country," said Rep. McSally. "There's no reason to continue this cruel practice when we have cost-effective alternatives that can bring about safe products for consumers. As an animal lover and volunteer, I'm pleased to be introducing this legislation with my colleagues to take a stand against the inhumane treatment of animals."
"It is time for us to end the painful and completely unnecessary process of testing American cosmetics on animals," " said Rep. Beyer. "Safer, more cost-effective, and completely humane alternatives already exist, and the United States is in no danger of losing its role as a competitive leader in the global cosmetics industry. Now we need to ensure our place as a moral leader."
The Humane Cosmetics Act would ensure that US companies are utilizing the most cutting-edge and cost-effective technology to produce results most relevant to human health, while ending the often painful tests that millions of animals endure each year. The bill also directly responds to the growing consumer awareness of the problems associated with animal testing and demand for a wide array of products that do not test on animals.
"Cosmetic animal testing is inhumane and unnecessary," said Rep. Joe Heck. "It is our obligation to pass this bipartisan legislation and protect the welfare of helpless animals.  Countries across the world began banning animal testing years ago and it's time for the United States to join them."
"Throughout my career in both the California state legislature and in the Los Angeles City Council I have been a strong supporter of animal rights, and I will continue the fights I have been proud to lead during my time in Washington," said Rep. Cárdenas. "I am honored to introduce the Humane Cosmetics Act to continue to strengthen requirements in the cosmetics industry that will keep us on a path to securing the proper and humane treatment of animals."
Testing methods such as the Draize test—which was developed in the 1940s and is still in use today—involve immobilizing an animal and prying the animal's eyelids open so that chemicals can be applied directly to the eyes. In lethal dose toxicity tests, animals are forced to ingest large amounts of a chemical in order to determine what dosage will lead to death.
"Animal testing for cosmetic products is quickly becoming a relic of the past now that we have more reliable, less expensive, and more technologically advanced methods at our disposal," said Cathy Liss, AWI president. "There is no need to subject millions of animals each year—most of whom are not even covered by the Animal Welfare Act—to inhumane experiments in order to test the safety of cosmetics.  If the US is to remain at the forefront of scientific and technological advances, then it is imperative that Congress pass this legislation."
To learn more about this issue, or to write a letter to your representative in support of this bill, please visit http://awionline.org/humanecosmetics.
###
Media Contact:
Amey Owen, AWI, amey@awionline.org, (202) 446-2128