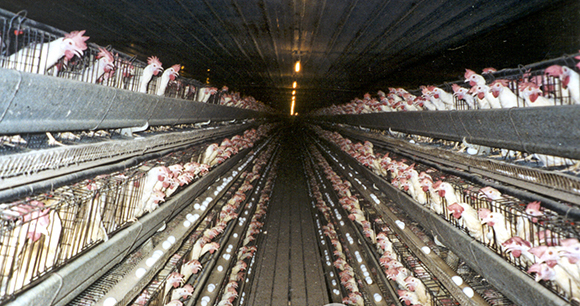 Undercover investigations by animal advocates are a critical tool in exposing the cruel realities of factory farming. However, instead of passing laws to ensure farm animals are protected from abuse and neglect on factory farms, industrial agriculture continues to introduce anti-whistleblower legislation (often referred to as "ag-gag" bills) to prevent the investigation and exposure of cruel conditions endured by animals at these facilities.
Ten states have passed 11 anti-whistleblower laws:
Alabama
Arkansas
Idaho
Iowa (2)
Kansas
Missouri
Montana
North Carolina
North Dakota
Utah
There have been attempts in many other states to pass this type of legislation (Arizona, California, Florida, Illinois, Indiana, Kentucky, Minnesota, Nebraska, New Hampshire, New Mexico, New York, Pennsylvania, Tennessee, Vermont, and Wyoming). But these attempts have failed—likely because the majority of legislators have come to understand how harmful these bills are, not only to farm animals, but also to the environment, workers, surrounding communities, and free speech.
Animal and consumer advocates have challenged some ag-gag laws in court. In 2015, a federal district court found Idaho's ag-gag law to be unconstitutional. After the state appealed, the Ninth Circuit Court of Appeals affirmed the decision in part, upholding the lower court's ruling that it is unconstitutional to ban recording at factory farms. Utah's ag-gag law was found to be unconstitutional in 2017. The Utah Attorney General's office decided not to appeal the case. A lawsuit filed against the North Carolina ag-gag law was initially dismissed due to lack of standing, but the Fourth Circuit Court of Appeals reinstated the lawsuit in 2018 and it is ongoing. Iowa's original ag-gag law was challenged as unconstitutional in 2017 and was struck down in January 2019. However, a new Iowa ag-gag law was passed soon after.
Please visit our action eAlert page to see if we need your help to stop an anti-whistleblower bill from becoming law in your state.