Organizations to Provide Books to Head Start Classrooms, Centers Nationwide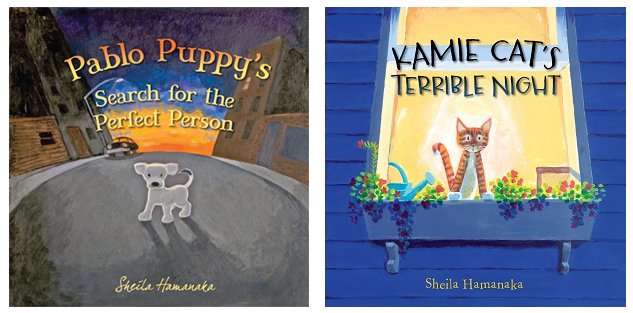 Washington, DC—The Animal Welfare Institute (AWI) has partnered with the National Head Start Association (NHSA) to make available copies of two of its children's publications, Kamie Cat's Terrible Night and Pablo Puppy's Search for the Perfect Person, to Head Start classrooms and centers nationwide.
"As part of its commitment to promoting better treatment of animals, AWI is honored to donate reading materials to Head Start,"said Cathy Liss, president of AWI. "Our partnership will help inspire a new generation of strong readers and compassionate individuals."
Published by AWI and authored by children's book author-illustrator Sheila Hamanaka, both publications focus on kindness to companion animals. Kamie Cat's Terrible Night describes the misadventures of a cat who gets lost and yearns to be home, reinforcing the need for responsible pet care. Pablo Puppy's Search for the Perfect Person recounts the plight of a puppy and an older dog living in a shelter, teaching the importance of humane treatment of animals. The books, available in both English and Spanish, will be distributed to NHSA classrooms and centers by NHSA's non-profit partner, FirstBook.
"NHSA is pleased to work with AWI in an effort to distribute over 13,500 books to Head Start programs free of charge," said Yasmina Vinci, executive director of NHSA. "Pablo the Puppy and Kamie the Cat send a positive message about the responsible and compassionate treatment of animals in these beautifully illustrated books. They will enrich the curriculum in Head Start classrooms across the country."
To learn more about AWI's children publications, visit https://awionline.org/store/catalog/animal-welfare-publications/materials-children.
###
Media Contact:
Amey Owen, 202-446-2128, amey@awionline.org
About the Animal Welfare Institute
The Animal Welfare Institute (AWI) is a non-profit charitable organization founded in 1951 and dedicated to reducing animal suffering caused by people. AWI engages policymakers, scientists, industry, and the public to achieve better treatment of animals everywhere—in the laboratory, on the farm, in commerce, at home, and in the wild. For more information about AWI, visit http://awionline.org.
About the National Head Start Association
The National Head Start Association (NHSA) is a non-partisan, not-for-profit organization committed to the belief that every child, regardless of circumstances at birth, has the ability to succeed in life. The opportunities offered by Head Start lead to healthier, empowered children and families, and stronger, more vibrant communities. NHSA is the voice for more than 1 million children, 200,000 staff and 1,600 Head Start grantees in the United States. For more information about NHSA, visit www.nhsa.org.