Loganton, Pennsylvania, a tiny one-square-mile Amish farming community, is home to 468 residents and 15 USDA-licensed guinea pig breeders. While this may suggest the community has a fondness for these animals, the Animal Welfare Act (AWA) record of some of these breeders tells a very different story. The suffering of guinea pigs at these facilities exemplifies the USDA's most recent failure to uphold the basic tenets of the AWA.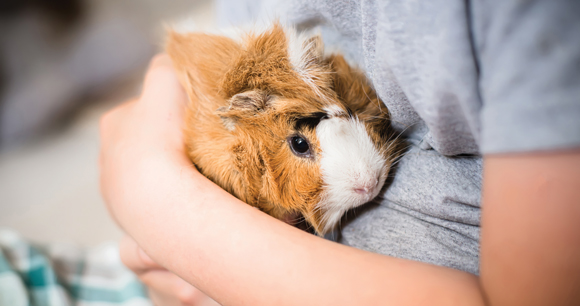 After years of uproar, a new regulation, effective November 2020, ended the USDA's practice of automatically renewing licenses (see AWI Quarterly, summer 2020). Now, all licenses last three years, at the end of which applicants must apply for a new license. But in determining whether to issue the new license, the USDA allows the applicant up to three opportunities to pass an announced inspection and does not consider the results of unannounced compliance inspections.
Many of these Loganton breeders have passed such pre-license inspections with flying colors while miserably failing the compliance inspections. Perhaps the most egregious example is Moses Fisher, who passed the announced pre-license inspection in September 2016 on his first try, then failed seven of 10 unannounced compliance inspections, five with documented critical or direct citations. His first compliance inspection (July 2017) found a host of problems (and 423 guinea pigs), including feces in water, inadequate caging (at least three guinea pigs running loose), and overall filthy conditions (according to the inspection report, "every primary enclosure requires cleaning"). Fisher told the USDA he only cleans them once a year; the USDA ordered him to clean at least every two weeks, as the AWA requires.
Conditions were even worse during his next three compliance inspections. On February 21, 2018, inspectors found seven animals suffering from untreated masses and eye issues and six dead guinea pigs whom Fisher had failed to remove or even notice. They also found the same filthy conditions. Fisher's wife said it had been at least five months since any cleaning had been done. A month later, on March 22, Fisher refused to allow inspectors on the property.
By March 28, Fisher had 738 guinea pigs and the number of untreated guinea pigs needing veterinary care had increased to 16, including those suffering from "eye problems, neck area masses, head tilt, [and] emaciated body condition." One of the seven guinea pigs the USDA had previously found needing veterinary care died the morning after that February 21 inspection. Inspectors could not check the other six because "individual animals are not identified at this facility." The filth was even worse, and "the ammonia levels were so high that both inspectors' eyes and throats were burning." Once again, inspectors found deficient enclosures, with two guinea pigs running loose. Feces still contaminated the water, and it was "obvious that sanitization is ineffective to non-existent." 
In February 2019 and January 2020, the ammonia odor again caused "inspectors' eyes and noses to burn," while both food and water were feces-contaminated. When Fisher wanted to add a new site with 554 guinea pigs, the USDA approved it after an announced inspection. Despite Fisher's appalling history of failed unannounced inspections, his active license is at least his third—meaning he passed previous announced pre-license inspections. 
There are similar issues with other Loganton breeders. Aaron Esh passed his announced pre-license inspection in November 2017 (with 179 guinea pigs) on his first try. The next four unannounced inspections found significant issues, including two inspections in 2020 with multiple direct citations. Inspectors have documented filthy conditions, overcrowding, and contaminated water. A January 2020 report found two guinea pigs with untreated veterinary care issues, cold housing temperatures, ammonia smell strong enough to cause burning of inspectors' eyes and noses, feces-contaminated enclosures, green water, and cobwebs. Esh told inspectors he was "only sanitizing once a month." A month later, in February 2020, inspectors found the same filthy conditions, too-cold temperature, and contaminated water.
Amos and Katie Stoltzfus passed an announced pre-license inspection in August 2017, with 106 guinea pigs. After two non-eventful compliance inspections in 2018, the USDA attempted an inspection in August 2019. Inspectors returned in January 2020 to find two guinea pigs with untreated masses that the Stoltzfuses had never discussed with the attending veterinarian, as well as a strong ammonia odor, dirty and soiled bedding, and food and water contaminated with feces. In February, inspectors observed similar contaminated conditions. 
Amos Fisher passed his announced pre-license inspection in February 2019, with 466 guinea pigs. Every unannounced compliance inspection since then has found significant issues. In February 2020, inspectors documented seven untreated guinea pigs needing veterinary care, including a weanling who appeared severely lethargic, with spasms and decreased respiration. He died during the inspection. A strong ammonia odor caused the inspectors' eyes and noses to burn; food was feces-contaminated, and many enclosures were filthy. Fisher had 860 guinea pigs. The next month, in March 2020, inspectors found eight guinea pigs needing veterinary care, as well as one dead animal whom Fisher had observed as lethargic. He did not contact the attending veterinarian.
John Esh passed his announced pre-license inspection in December 2018 with 551 guinea pigs. On his first unannounced compliance inspection in June 2019, the USDA found 11 guinea pigs who had not received any veterinary care, including nine suffering from untreated masses. Esh had noticed the masses but had not contacted the veterinarian. The report also documented sanitation and inadequate caging issues. Inspectors tried to follow up two months later but no one answered. The next time inspectors came, in January 2020, Esh "voluntarily" gave up his license. But, like Moses Fisher and other breeders in Loganton, Esh can apply for a new license, pass the USDA's announced pre-license inspection, and then utterly fail to comply with the minimum standards of the AWA while yet more animals suffer.
Loganton is one tiny town with just 15 of the thousands of licensees regulated under the AWA. But these guinea pig breeders exemplify a much larger problem, and constitute a stark warning. The USDA has not only enabled them—and their animals' suffering—but also the thousands of other licensees who will benefit from the department's utterly inadequate reliance solely on announced inspections to determine who gets and keeps licenses.