One of the stark realities COVID-19 has forced us to confront is the huge risk posed by zoonotic diseases—pathogens passed from nonhuman animals to humans. COVID is merely the latest and most devastating example of this type of disease. In the past 40 years, the worst pandemics and epidemics—including SARS, Ebola, HIV/AIDS, avian flu, swine flu, and Zika—have all originated in animals. We must reevaluate our treatment of animals and our relationship with the natural world in order to protect public health.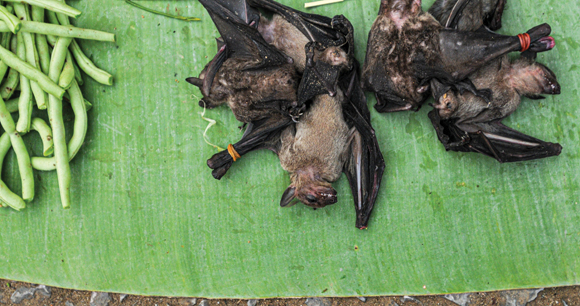 In September, Senators John Cornyn (R-TX) and Cory Booker (D-NJ) and Representatives Mike Quigley (D-IL) and Fred Upton (R-MI) introduced the Preventing Future Pandemics Act (HR 8433/S 4749). This bill would outlaw the import, export, and sale of live wildlife for human consumption in the United States. It would also provide support for efforts to help curb wildlife trade for human consumption abroad.
The United States is responsible for an estimated 20 percent of the global wildlife trade. Live wildlife markets, the primary focus of this bill, constitute just one segment of this multibillion-dollar trade, yet COVID-19 has taught us that they can have serious repercussions for public health. At such markets, wild animals such as civets and bats are crammed together near humans, creating an ideal scenario for the spillover of diseases to which we have no immunity.
By exploiting animals and their habitats, we contribute to precipitous declines in biodiversity and come into more frequent contact with wildlife that carry novel and dangerous pathogens. AWI will continue advocating for the Preventing Future Pandemics Act to position the United States as a global leader in protecting both wildlife and public health.