With the war in Ukraine now well into its second year, the level of destruction that continues to be inflicted upon the country's people and animals is truly staggering. Ongoing loss of life and mass displacement have created a humanitarian crisis that has affected tens of millions of people and untold numbers of animals. Since the beginning of the war, thanks to our members' generous donations, AWI has worked with organizations in Ukraine and neighboring countries in Europe to help alleviate the suffering of the animals of Ukraine.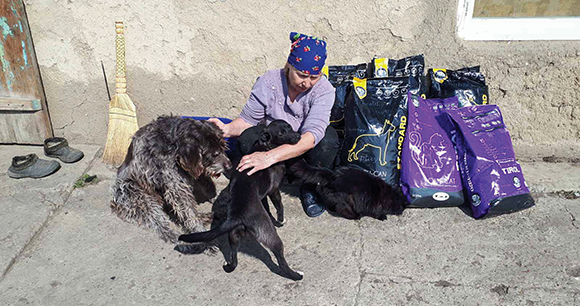 We have distributed nearly $200,000 to 17 organizations that run or support private and public shelters, veterinary clinics, zoos, and rescue and rehabilitation centers providing desperately needed care. The organizations we have funded are Animal Advocacy and Protection, Animal Society, Asociatia Save Our Paws, Casa lui Patrocle Animal Rescue, Foundation for Bears, FOUR PAWS, Gyvūnų gerovės iniciatyvos, Happy Paw, Natuurhulpcentrum, Romanian League in Defense of Animals, Save the Dogs and Other Animals, Sirius, Speranta Shelter, UAnimals, Ukrainian Equestrian Federation Charity Foundation, Viva! Poland, and White Paw Organisation e.V.
These organizations have all played unique and essential roles in improving the lives of companion animals, equines, and captive wild animals in Ukraine during different stages of the war. Some of the services provided by the various organizations: providing medical care, food, blankets, vaccines, microchips, pet carriers, beds, and other supplies for companion animals fleeing the country; providing food and shelter for stray dogs and cats; operating a pilot program to reunite pets and families; humanely spaying and neutering animals left to fend for themselves; transporting horses to safer locations and providing them with food and bedding; and evacuating wild animals such as bears and tigers from zoos and wildlife rescue centers and providing them with food, medical care, and shelter far from the war's front lines. 
AWI is grateful for the opportunity to partner with organizations and the people behind them who have worked tirelessly to help animals in the most dire of circumstances.