Every year, AWI awards grants of up to US$10,000 to support research projects aimed at developing or testing new and creative ways to improve the welfare of animals in research.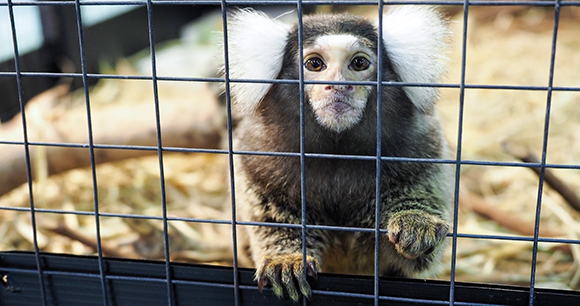 We are pleased to announce this year's grant recipients:
Dr. Becca Franks, assistant professor at New York University, for a study using videographic evidence to assess the degree to which play behaviors are observable across fish species, to document which factors encourage fish play, and to investigate how play can be used to assess fish welfare.
Alexander Greig, research assistant at Texas Biomedical Research Institute, for studying the behavioral and physiological effects of implementing visual barriers in the housing of captive marmosets to reduce social stress.
Dr. Julie Menard, assistant professor at the University of Calgary, for testing a noninvasive alternative to endoscopy when sampling the small intestine microbiome in dogs.
Dr. Cathy Schuppli, clinical veterinarian and clinical assistant professor at the University of British Columbia, and co-investigator Dr. Amelia MacRae, a certified animal trainer (KPA CTP), for developing positive reinforcement and counterconditioning training protocols for laboratory-housed mice and pigs to improve human-animal interactions in a research setting.