Once again, we are forced to highlight the abysmal state of enforcement of the Animal Welfare Act (AWA) and the Horse Protection Act (HPA) in recent years. As made plain by the graphs on this page, the US Department of Agriculture has all but abandoned its duty to protect animals under these vital laws. We hope that there will be better news to report from the new administration, but first we want to acknowledge the huge task newly appointed Secretary of Agriculture Tom Vilsack and his staff have ahead of them if they are to address this (in addition to the steps they should take to correct course on farm animal welfare issues—see page 4).
The graphs below provide a detailed look at enforcement by the USDA over a seven-year period. From 2016 to 2020, there was a 67 percent drop in the number of AWA inspections where citations were documented. New investigations plunged by nearly 90 percent over this period. Under the HPA, there have been zero warning letters, zero new investigations, and just one administrative complaint since 2018. And it's important to note that even though the USDA was undoubtedly limited in how it functioned during COVID-19 over most of 2020, the absence of enforcement activity during that period is scarcely different from the non-activity that prevailed in the years and months immediately preceding the pandemic.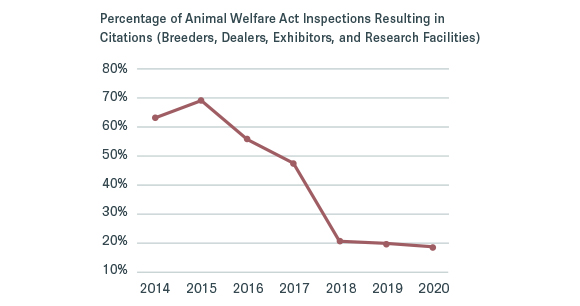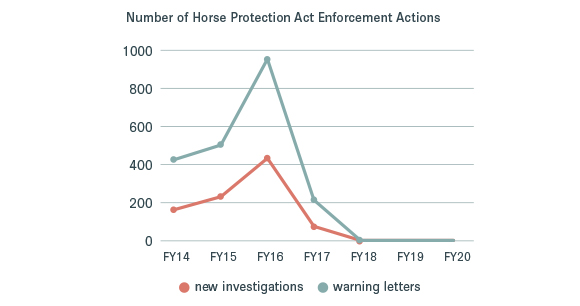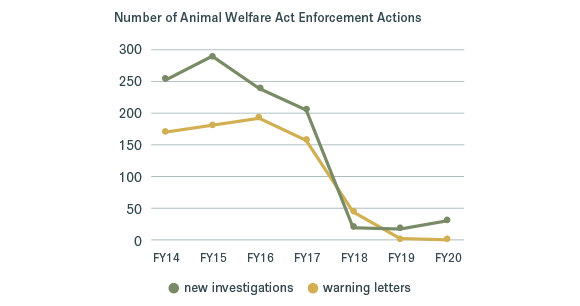 A sea change within the department is desperately needed. It should begin with staff who have been operating under a mandate during the Trump administration to support industry by turning a blind eye toward the overwhelming majority of noncompliances. Secretary Vilsack needs to convey that the new mandate is for solid enforcement of both the AWA and the HPA. Inspectors must be given autonomy and encouragement to do their work without being micromanaged. 
In addition, the USDA needs to engage in a process to restore the many enforcement tools that have been dismantled in recent years, including the inspection guide (used by inspectors), the policy manual (which provides key supplemental explanations of the regulations), reliance on unannounced inspections, and, with respect to HPA enforcement, adoption of the horse soring rule that was prepared during the Obama administration. (See previous page.) These changes would begin to restore the integrity of the program, and must begin with all due haste.