Native to the Andes Mountains in South America, chinchillas are gentle, social, inquisitive, and energetic rodents. Though not typically thought of as experimental animals, chinchillas (because of their large ears and hearing similar to humans) are often used for invasive and terminal research on diseases of the inner and middle ear. 
The primary supplier of chinchillas for research, listed in the online AALAS Laboratory Animal Science Buyers Guide, is Moulton Chinchilla Ranch (MCR) in Minnesota. MCR is a USDA-licensed dealer that has been breeding and selling chinchillas since 1966; the company states that its inventory is 500 to 900 animals.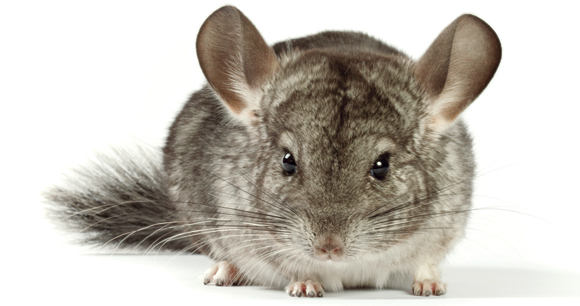 From all appearances, MCR's track record on animal welfare is truly horrific: Between December 2013 and February 2020, the company was cited more than 100 times for Animal Welfare Act violations on USDA inspection reports. Yet, during this time, the USDA appears to have done next to nothing to prevent continued suffering of MCR's chinchillas.
What USDA inspectors found 
The USDA cited apparent violations in 21 of 23 inspections conducted during this period. Many, such as failure to provide needed veterinary care, were repeated over and over, sometimes with the same animals whose condition had become even worse. Over 120 suffering chinchillas had to be identified during inspections as needing veterinary care. Inspectors observed eyes that were crusted, sealed, swollen shut, bleeding, and oozing fluid. They reported insufficient staff, green drinking water, collars becoming embedded in the animals' necks, an ammonia-like foul odor so pervasive it burned inspectors' eyes and throats and forced them to leave, waste so widespread the animals could not find a clean spot to stand or sit, fly infestations, long-dead animals left in cages, and lighting so poor that adequate welfare checks were not possible. 
Access repeatedly denied
The USDA actually attempted to visit the facility 40 times over the past 6+ years. Seventeen times—in what is by far the worst case we know of—the USDA inspector arrived and was told that an authorized individual was not available to accompany the inspector. This prevented the USDA from inspecting the animals. As recently as February 4, 2020, an inspector arrived to inspect, but the owner of the business claimed he couldn't stay and therefore, once again, no inspection occurred. On three of these 17 occasions—in March, November, and December 2017—the USDA failed to even mark this unavailability for inspection as a citation.
How did the USDA respond in 2017 after years of appalling inspections and thwarted attempts at inspection? By giving the vendor a hiatus: The USDA didn't bother inspecting again until October 2018—nearly 10 months after the previous inspection attempt and 14 months after the last actual inspection. Then, when the USDA finally did visit, it elected to do an announced inspection. (The standard compliance inspection is unannounced—the better to ensure that the inspector is able to see conditions as they truly are, without providing an opportunity for the licensee to quickly clean up or hide noncompliances.) This announced inspection was conducted as part of a troubling USDA pilot program, through which it was considering changing its procedures so as to provide advance warning for some inspections (see AWI Quarterly fall 2018). 
Even at this scheduled inspection, in which MCR had at least 16 animals in the "sick bay" area, the inspector found an additional 22 animals in need of veterinary care and noted, "Health issues that are not identified in a timely manner can cause unnecessary pain and discomfort." MCR was also instructed to increase daily observation of the animals to include "looking at both eyes on each animal, and observations of their neck collars to check for tightness." Inspectors had noted in 2014 that eye problems at MCR were "ongoing." Despite the number of animals involved, MCR was given just one repeat citation for lack of veterinary care.
A complaint is finally filed, but the problems continue
The USDA finally filed an 18-page complaint in November 2018. The complaint listed 81 separate instances of failure to provide adequate veterinary care, including multiple animals whose condition deteriorated over time. The complaint referenced countless eye issues and animals who were lame (in some cases, even missing part of a leg), who had tumor-like masses, and whose head listed to one side. One female had "an open wound around the neck with a pale liquid discharge mixed with a pale granular-type discharge in it and a putrid odor." MCR was also cited for unsafe housing and more than 10 instances of failure to remove an excessive accumulation of waste—including excrement, soiled bedding, and even dead animals.
The USDA inexplicably failed, however, to include 60 additional instances of chinchillas in need of veterinary care, or seven additional times when inspections of animals were thwarted. As of March 12, 2020, the USDA had neither amended the November 2018 complaint nor filed a second one to include these instances, as well as any citations that have been issued since. A hearing before an administrative law judge is scheduled for April 6 in Minneapolis. 
Meanwhile, MCR can continue business as usual. Among the many research facilities that have used animals from MCR are Arizona State University, Medstar Health Research Institute, the University of Colorado School of Medicine, the University of Florida, the University of Minnesota, the University of Oklahoma, and Southern Illinois University.
In addition to condoning this unabated suffering, the USDA's lack of oversight has grave implications for research. In the words of AWI board member Dr. William Stokes, a former rear admiral and assistant US surgeon general, "Animals used in research must be raised under the highest standards of care and welfare in order to ensure high quality reproducible research, and to avoid health-related variables that can result in invalid research or the need to use more animals." Clearly, that has not been the case with MCR. 
Ways You Can Make a Difference 
If you are an investigator, an institutional official, or an IACUC member overseeing or involved in research with chinchillas (or any other animal), use a supplier that is able to reliably meet the modest, minimum requirements under the Animal Welfare Act.
The USDA can and must prevent senseless animal suffering. Please send a letter or email to Kevin Shea, USDA-APHIS Administrator, 1400 Independence Avenue, SW, Washington, DC 20250 or

[email protected]

and respectfully ask the USDA to revoke MCR's license and take strong action against others who have been cited so often by inspectors for failure to comply with the law.