Each year in the United States, hundreds of racehorses die on tracks across the country—a death toll that far exceeds the number of fatalities in other racing jurisdictions around the world. Why the difference? Well, for one thing, other countries ban the use of race-day medications that mask injuries, pain, inflammation, and other warning signs that precede catastrophic breakdowns. Here, performance-enhancing drugs are standard fare and oversight is exceedingly lax within an industry that has been largely left to police itself.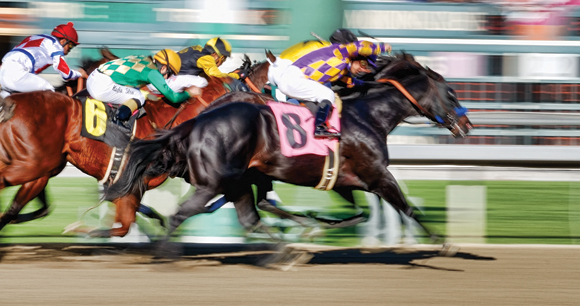 Some rather dramatic outside policing did take place in March, though, when more than two dozen trainers, pharmacists, veterinarians, and drug distributors were charged as participants in a pervasive doping ring. Jason Servis, one of the world's most successful trainers, was among the busted backstretch denizens. (He is the trainer of Maximum Security, the horse who finished first in the 2019 Kentucky Derby, only to be disqualified for interference.) According to federal prosecutors, Servis doped "virtually all horses under his control." 
To date, the US racing industry has been largely unwilling to implement meaningful reforms that would promote equine welfare. However, the recent and shocking spate of deaths at the storied Santa Anita racetrack outside Los Angeles—where 46 horses have died since December 2018 during racing or training—has undoubtedly put a spotlight on the desperate need to clamp down on widespread doping. 
In the midst of this, a bipartisan bill in Congress, the Horseracing Integrity Act (HR 1754/S 1820), has amassed significant support. A House committee hearing on the bill was held in January, during which the myriad and pervasive problems surrounding horse racing in this country were spelled out. The Horseracing Integrity Act would create an independent anti-doping authority that would set uniform national standards, testing procedures, and penalties, replacing the patchwork and wildly inconsistent regulatory schemes that currently exist among 38 US jurisdictions. Perhaps most importantly, the bill would prohibit race-day medications. 
While the final fallout from this latest scandal remains to be seen, one thing has been made abundantly clear—a culture of doping is deeply entrenched in the industry. According to the New York Times: "Maximum Security won eight of 10 races and nearly $12 million in purses while passing drug test after drug test," even as—prosecutors assert—"veterinarians falsified records and backstretch pushers promised and delivered cutting-edge chemistry."
The United States is long overdue for comprehensive and uniform regulations regarding the use of medications for racehorses. Polling shows that most Americans support efforts aimed at curbing this unhealthy reliance on performance-enhancing drugs. Without such reforms, horses will continue to suffer and many will die. As the US Attorney for the Southern District of New York explained, the trainers, veterinarians, drug distributors, and others who were indicted in these schemes "engaged in [such] conduct not for the love of the sport, and certainly not out of concern for the horses, but for money. And it was the racehorses that paid the price for the defendants' greed."
Visit awionline.org/horse-racing to urge your members of Congress to support the Horseracing Integrity Act.