The fiscal year 2020 appropriations bills finalized in December included a number of victories for animals: On the marine side, $3 million was allocated for research and monitoring of the gravely imperiled North Atlantic right whale, and funding will continue for research on methods to reduce sea turtle bycatch and for sea turtle stranding and rehabilitation programs.
The Rescuing Animals With Rewards (RAWR) Act was included in the package—empowering the State Department to offer financial rewards in exchange for information that leads to the disruption of wildlife trafficking networks. Meanwhile, the US Fish and Wildlife Service will reassess its current policy of evaluating applications to import sport-hunted elephants and lions on a case-by-case basis and will consider ways to assist exporting countries with conservation programs that don't involve the slaughter of imperiled species.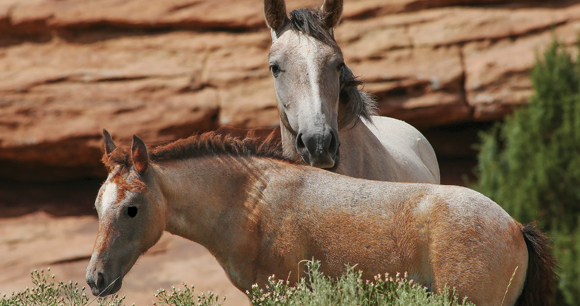 Provisions were included that will effectively bar horse slaughter facilities from operating this year in the United States, and will prevent the Bureau of Land Management or the US Forest Service from selling off wild horses for slaughter abroad (an important measure given the USFS's recent efforts to remove restrictions on slaughter of wild horses—see AWI Quarterly, spring 2019). 
The Protecting Animals with Shelter (PAWS) grant program was allocated $2 million to make additional resources available to better assist domestic violence survivors and their companion animals. Provisions were included to bar the US Department of Agriculture from licensing dealers who sell randomly acquired dogs and cats for use in experiments. Regarding farm animals, the USDA will work with producers to develop disaster plans to prevent injuries and deaths to such animals during extreme weather events (see page 13 for details).
A particularly crucial provision in the appropriations legislation addressed the USDA's abysmal performance with respect to the Animal Welfare Act (AWA) and the Horse Protection Act (HPA). Three years ago, the USDA abruptly purged its online database of inspection reports for breeders, dealers, exhibitors, research facilities, and other entities subject to government oversight. (See AWI Quarterly, spring 2017.) 
AWI worked with media to publicize this purge and the department's drastic curtailment of enforcement activities. We joined others in asking Congress to require restoration of the data. Congress responded emphatically, directing the USDA to return the missing AWA and HPA inspection and enforcement documents and resume publishing reports online. Those reports—involving an estimated tens of thousands of documents—started to reappear in mid-February, with the assurance that more would be posted within 60 days.