Whether they are thoroughbreds running full tilt around an outdoor track or walking horses stepping gracefully across an arena, horses bred for competition undergo extensive training and conditioning. For owners and trainers, a champion horse can mean big money and a place in the record books.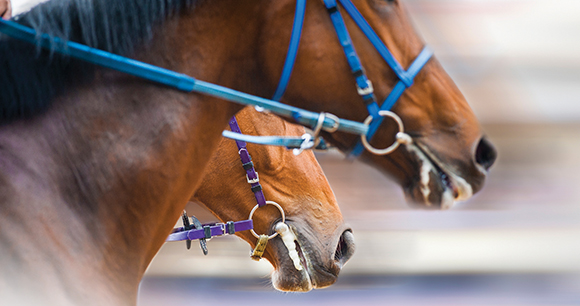 As with any competitive enterprise, however, high stakes can push a will to win over the line into a will to win at any cost. Too often, single-minded pursuit of victory ends up running roughshod over the safety and well-being of the horses themselves. Thoroughbreds are given drugs to enhance performance and mask pain. Conversely, walking horses are "sored"—intentionally put in pain to "enhance" their high-stepping gait. 
AWI is working to curb rampant abuse in both fields.
Thoroughbred racing
This year's Triple Crown season was marred by a troubling and steady stream of equine deaths, including 12 horses who died at Louisville's Churchill Downs in the span of six weeks (two of whom died during races on Kentucky Derby Day). This intensified a growing media focus on the dangers and welfare problems increasingly associated with US horseracing. Between 2009 and 2021, according to The Jockey Club's Equine Injury Database, 7,274 thoroughbreds died in training- or race-related incidents.
Following enactment of the Horseracing Integrity and Safety Act in 2020, the Horseracing Integrity and Safety Authority (HISA) was created to establish and enforce consistent standards for racetrack safety protocols and the use of medications—the latter aimed at cracking down on rampant "doping" (administration of drugs that mask pain and allow horses to push beyond normal physical limitations, which can lead to catastrophic injuries).
Regarding the latest string of deaths at Churchill Downs, AWI worked closely with a bipartisan group of lawmakers to urge HISA, the Kentucky Horse Racing Commission, and Churchill Downs Incorporated (CDI) to undertake thorough, transparent investigations. HISA convened an emergency summit in late May. A few days later, it formally recommended a suspension of racing at Churchill Downs. This was done, and the remainder of the track's spring meet was moved to Ellis Park—a small CDI-owned venue 2 ½ hours away.
AWI has long pushed for the robust implementation of "anti-doping and medication control" regulations and racetrack safety rules. We submitted multiple regulatory comments to the Federal Trade Commission, which ultimately approved HISA's proposed regulations (citing AWI's comments in the order approving the anti-doping and medication control rule).
For racehorses, drug controls and added safety measures cannot come too soon. Implementation of the new regulations, however, was severely delayed by litigation from certain industry groups and state racing commissions that have opposed national oversight in the industry. They finally went into effect on May 22, two days after the Preakness Stakes in Baltimore—won by a Bob Baffert–trained horse. Baffert has been banned from the past two Kentucky Derbies after his apparent 2021 Derby winner, Medina Spirit, tested positive for a banned substance and was disqualified. Later that year, the 3-year-old colt died (possibly from a heart attack) following a workout.
Walking horse competitions
When the Horse Protection Act (HPA) was signed into law in 1970, it was intended to shield Tennessee walking horses (known for their gentle disposition and prized for their distinctive and smooth stride) and related breeds from the barbaric practices associated with "soring"—inflicting pain to elicit a more pronounced high-stepping gait for competition.
Soring methods include applying diesel fuel and kerosene to burn the skin of horses' legs, grinding down hooves to expose sensitive tissues, and applying sharp or abrasive objects to tender areas. Such practices persist largely because the US Department of Agriculture outsources much of its responsibility for HPA enforcement to the very groups that put on shows and competitions—a self-policing scheme that has proven woefully ineffective.
For the small number of events to which the USDA does send its own inspectors, the difference is stark. In a USDA review of 2021 data, for example, industry inspectors recorded a 99 percent compliance rate, while USDA inspectors noted a 69 percent compliance rate—in other words, while USDA inspectors found violations in more than 3 out of 10 cases, industry inspectors uncovered next to none. 
AWI has persistently advocated necessary upgrades to the HPA to protect walking horses against such heinous abuse. We have rallied support in Congress for the Prevent All Soring Tactics (PAST) Act (HR 3090), a bill that would end the failed industry self-policing scheme, ban the use of devices closely associated with soring, and increase penalties for violators. The PAST Act was reintroduced in the House of Representatives in May and has already amassed nearly half of the chamber's members as cosponsors. Unfortunately, despite strong support in the Senate, as well, the bill has never been brought to the floor for a vote in the upper chamber.
The USDA has also promised to strengthen HPA regulations. In early January 2017, the department—under Secretary of Agriculture Tom Vilsack—attempted to issue regulations that would have bolstered HPA enforcement and accomplished many of the same goals as the PAST Act. But the Trump administration took over later that month and froze the effort. 
Secretary Vilsack returned under the Biden administration, and the USDA indicated a "new and improved" HPA rulemaking proposal was "a top regulatory priority" in December 2021. But a year and a half later, in June 2023, it withdrew the proposed 2017 rule (which it could have just reissued) without indicating a replacement was forthcoming. 
AWI had convened a stakeholder meeting with USDA officials earlier that month in which animal protection, equine industry, and veterinary groups urged the department to expedite the process. AWI also ran a series of advertisements in a national media outlet to call attention to the USDA's perplexing inaction. Ads on the website were viewed more than half a million times and ads in print and digital newsletters were delivered to nearly a million and a half recipients. Meanwhile, AWI supporters sent around 9,000 messages to Secretary Vilsack urging swift action. Finally, just as this AWI Quarterly issue was going to print, the USDA released a new HPA rulemaking proposal—which AWI will review and report on in a subsequent issue.