AWI recently provided substantial financial support to help the nonprofit Animals Asia construct a second bear sanctuary in Vietnam, primarily to house Asiatic black bears rescued from bear-bile farming. Although Vietnam outlawed bear-bile extraction in 2005, many farms continue to operate illegally. The bile is used as a traditional medicine to treat sore throats, sprains, bruises, and other ailments despite effective, synthetic alternatives.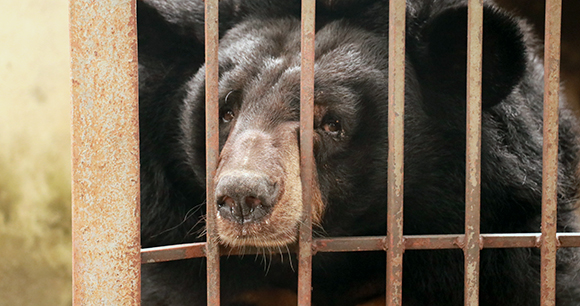 Bile farming involves terrible trauma and suffering. Cubs are poached from the wild, and the bears are crammed into metal cages barely larger than their bodies. They are restrained or sedated and stabbed repeatedly with a long needle until the gallbladder is located and a catheter connected to a mechanical pump that sucks out the bile. Bears may endure these horrific conditions, in perpetual agony, as long as 30 years. 
In 2017, Animals Asia entered into a cooperative agreement with the Vietnamese government to end the country's bear-bile industry and rescue the approximately 300 bears remaining on bile farms. The new facility will provide Animals Asia with the capacity to help ensure no bear is left behind.