AWI, together with the Humane Education Network, congratulates the winners of the 2021 "A Voice for Animals" competition. Through video, photos, and essays, the contest encourages students age 14–18 to examine issues involving animal welfare and ways to reduce animal suffering. This year, several of these prize-winning submissions showcased not just the actions of the authors, but also their drive to reach other young advocates and involve their communities in efforts to improve the lives of animals.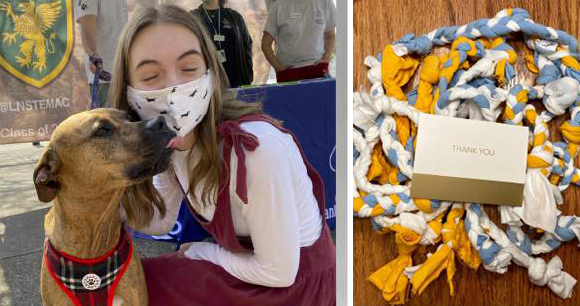 Seventeen-year-old Manya Oswal of India submitted a video detailing the plight of street dogs, or "indie dogs," as they are known by compassionate people like Manya. Her actions on behalf of indie dogs include securing veterinary care, establishing a telephone line to report injured animals, and recruiting young people to her foundation, "There 4 U," which raised US$15,000 for the purchase of an animal taxi to transport indie dogs to veterinary facilities. Although the results of Manya's work are impressive, she finds the greatest satisfaction in simply spending time with the animals she has worked so hard to save.
Educating children about the dangers of plastic pollution is the goal of a book written by Ella McMullin. Recognizing the benefits of encouraging eco-friendly habits early in life, Ella created her publication Spencer's Beach Day to capitalize on children's natural fascination with animals. She printed copies of her book to donate to local classrooms, and visited coastal schools to share the tale of Spencer's encounters with marine creatures affected by plastics. A read-aloud video of Ella's book is also available on YouTube, ensuring that its important message can reach children far and wide.
Canadian environmentalist Jordan Dearsley has been busy coordinating a series of e-waste disposal drives. In her photo essay, Jordan describes the harmful effects that toxic substances—such as those found in common electronics—can have on wildlife. The 17-year-old saw an opportunity to educate others on these impacts and to eliminate the inconveniences preventing her fellow citizens from properly disposing of their old electronics. She arranged drop-off locations and coordinated with a local group to pick up the discarded items for recycling or, when practical, repairs. Through these efforts in her community, Jordan hopes to improve the future for wild animals.
Upon learning of the impact a stressful shelter environment can have on a companion animal's otherwise winning personality, Reagan Frye began volunteering at her local shelter with the goal of helping to keep homeless pets socialized and appealing to potential adopters. One way to do this is by providing dog toys to help alleviate boredom. Reagan recruited her classmates to help make safe, shelter-approved dog toys out of old towels and T-shirts and donated them to the shelter. While Reagan recognizes that it will take sustained involvement by many volunteers to improve the well-being of shelter animals, she plans to continue sharing her experiences and encouraging others to get involved.
To see the entire list of winners and their submissions please visit hennet.org.