The 2020 "A Voice for Animals" contest received over 500 entries from all over the world, including submissions from Nepal, Mexico, Singapore, and India. Many of this year's entries addressed timely topics such as the spread of diseases via animal markets and the devastating Australian wildfires, demonstrating that young people are as tuned in as ever to recent events and the world around them. A few of the 20 prizewinning entries are described below.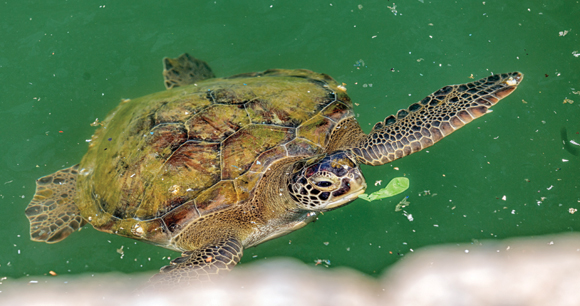 Sarah Robison parlayed her appreciation for sea turtles into "Sea Turtle Awareness" day, educating her community about the dangers of plastics in the marine ecosystem. Her informative video, "The Plastic Effect: Sea Turtle Awareness," documents her initiative in creating an educational display using recyclable items, as well as handicrafts, to show how materials can be repurposed instead of discarded. 
While training for her summer job as a camp counselor on a California marine research vessel, Yolanda Chen learned of the problems caused by commercial fishing. As explained in her essay, "Overfishing and Bycatch: An Empty Ocean," increased demand and modern methods of fishing are causing animal suffering and ecological devastation. Chen incorporated this issue into the lessons and activities she and her fellow counselors shared with their campers.
Inspired in large part by his family's own rescue dog, Derek DeAngelo brainstormed a technology-based solution. The resulting smartphone app, called "Rescue Me Massachusetts," took months to develop and test. His perseverance throughout his project and commitment to helping shelter animals is apparent in his essay-with-photos submission titled, "Animal Homelessness: There's an App for That."
Employing forensic science to curb illegal pangolin trafficking is a unique solution described by Liana Hase-Penn in her essay submission, "The Tragic Plight of Pangolins and the Poaching of the Endangered Species." Hase-Penn, who has a strong interest in STEM technologies, is hoping this application will allow authorities to identify and apprehend poachers. Citing a British survey from 2018, she also points out there are still many people who do not know that this species exists, let alone that they are critically endangered. 
AWI, together with Humane Education Network, congratulate these and other winners of the contest's 30th year. To view all the winning entries, visit hennet.org/contest.php.