When Dr. Bill Clark is not training Kenyan pilots on how to dodge poacher gunfire, enlisting modern DNA technology to combat bushmeat trafficking, or reintroducing once-exterminated oryx antelope to Senegal, he can be found tucking his violin under his chin—halfway between his head and beating heart.
It's a familiar place to be for the AWI international wildlife program specialist, who has spent nearly half a century balancing the intellectual and emotional demands of treating each animal as an individual while preserving the long-term survival of species around the globe.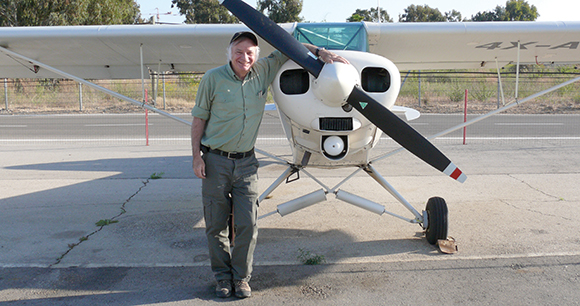 "We're not putting enough effort into accommodating the other creatures who share this planet with us," said Clark, his voice as soft and mellifluous as that of the songbirds fluttering in his suburban Virginia backyard. "Too often, we resort to a gun."
A retired chairman of Interpol's Wildlife Crimes Group, Clark has coordinated operations that netted more than 1,000 arrests across Africa and resulted in the seizure of tens of thousands of carved ivory pieces, along with weapons, bushmeat, sea turtle shells, and leopard skins.
Clark has also facilitated donations of essential equipment and training to African wildlife law enforcement officers. Through his efforts, they learned how best to interrogate poachers involved in sophisticated organized crime rings and to present and defend their evidence in court. "It's not some mom and pop poaching," Clark said. "They have poaching gangs that are like hit squads." One of his trainees exposed "Queen of Ivory" Yang Feng Glan, who is among Africa's most infamous ivory traffickers and who was subsequently arrested in Tanzania.
David Higgins, Clark's former boss at Interpol, described him as a vital, resilient leader who has maintained his humility. "Without Bill's leadership and drive to keep the global network together and productive, I doubt we would be seeing the response to tackling wildlife crime today," Higgins said. "There would simply be no network for enforcement to engage."
A defining moment in Clark's career came in 1989, when he acted as the primary author of the successful Convention on International Trade in Endangered Species of Wild Fauna and Flora (CITES) proposal to list all elephants on Appendix I, effectively ending the legal international trade in elephant ivory.
At the time, a ton of ivory commanded $100,000 and many countries were reluctant to abandon a lucrative market. Clark had spent the previous decade lobbying hard for an Appendix I listing, a period during which hundreds of thousands of elephants and hundreds of park rangers fell victim to the poachers' military-style assault weapons. Before the vote, Clark made a last-ditch appeal to CITES delegates while they were wined and dined in the Swiss Alps. In the end, a two-thirds majority supported his measure. Euphoric, Clark danced in the aisle, hooting with his arms held high.
Early on, Clark cultivated a deep respect for all creatures. A South Bronx native, he recalled gazing out his bedroom window at the searchlight beaming from Rikers Island. Below, the sidewalks were littered with broken glass and greasy, wadded-up newspapers. A move to rural Newtown, Connecticut, when he was 9, however, offered plentiful interactions with wild animals.
In the spring of 1959, a judge in town killed a mother fox on a hunting trip, yet felt sympathy for her three orphaned cubs. So he scooped them up and brought them to a local high school teacher, who gave one to Clark, who named her Khrushchev "because she was red." Clark hand-reared her until she graduated to leftovers. She resided in a pen in the backyard—free to roam during the day but always returning for supper.
Khrushchev had an independent mind and her own preferences, the teenager learned. "She'd eat everything except peas." She hung around for a couple of years until Clark enlisted in a Marine Corps infantry unit and was shipped off to Okinawa and Vietnam. Khrushchev, meanwhile, found her home in the woods. The relationship with the fox set Clark on a path of bonding with creatures demeaned by some as vermin.
The lance corporal left the Marines in 1967 with an honorable discharge. Clark was intent on pursuing a law degree to learn how to resolve conflicts peacefully and justly. Yet on his first day of law school, his professor informed the class: "Anyone interested in justice should go across the street to the philosophy department." Disappointed by this proclamation, and by the fact that many of his classmates were more mercenary than his fellow soldiers, Clark spent his weekends volunteering in the San Francisco Bay, collecting seabirds coated in oil from the nearby refineries and washing them off with detergent.
The experience solidified his interest in field biology, leading to graduate-level study at New York University. While there, Clark worked as a reporter and editor for a daily newspaper in Danbury, Connecticut, finding ways to incorporate animal voices into his articles. When a nearby town was deeded an island full of nesting geese, Clark asked one of the residents if she supported sparing the island from development. "She replied with a wry smile and honk in agreement," he recalled of his feathered interview subject.
Later, Clark, a longtime volunteer with the Israel Nature Reserves Authority, was recruited to run a 3,000-acre breeding and reacclimation center called the Yotvata Hai-Bar Nature Reserve in southern Israel. While there, Clark worked to reintroduce the white oryx, a medium-size antelope with long straight horns that had been decimated by hunters. Eight oryxes were initially shipped from American zoos; nearly 40 years later, about 170 roam the Negev desert. Members of a related species, the scimitar-horned oryx, were later transported from the reserve to Senegal—trading their Hebrew names for Wolof—to reestablish a population that numbers nearly 500 today.
The stomping, snorting wild ass proved more challenging, Clark remembered. They breed slowly and some of the bachelors raided the melon and tomato patches belonging to a nearby kibbutz. A few of the resident ostriches met a worse fate: They wandered across the Jordanian border, only to be gunned down.
Clark spent his days trying to teach his hundreds of charges how to adapt to the blistering heat and remain wary of predators. He blew tractor horns and beat pots and pans to keep the wolves away from their fenced enclosure. He chronicled his experiences in his 1989 book, High Hills and Wild Goats.
Clark recalled one scimitar-horned oryx, dubbed "Napoleon," who was convinced that he was the dominant male of the herd. He often picked fights with the younger males, depending on Clark to patch up his wounds. Soon after, he would escape his pen and go back for more. As Napoleon aged, Clark found ways to satisfy his thirst for battle. Using a broomstick, he playfully whacked the animal's horns and the pair would go at it for 10 minutes or so. "We did that until the day he died," Clark recalled. "Even herd animals are all individuals."
Growing up at a time when The Origin of Species was banned in high school biology classes, Clark has carried Darwin's words in his wallet for four decades: "Natural selection works solely by and for the good of each being."
He disagrees with "hard releases" used in many reintroduction projects, when animals are given only a couple months to get adjusted to their new environment before they are pushed into the wild. "You've got to think in generations," Clark said. "You've got to rehabilitate the habitat and do it very gently."
Nothing escapes Clark's watchful eye, including animal waste. In April, AWI honored Dr. Samuel K Wasser, acknowledged worldwide for developing noninvasive tools for monitoring human impacts on wildlife, with its Schweitzer Medal. The prestigious award recognizes outstanding achievement in the advancement of animal welfare. (See AWI Quarterly, summer 2018.) Most notably, Dr. Wasser used elephant dung to assemble a DNA reference map of elephants across Africa, which is now widely used to determine the geographic origins of poached ivory.
As Wasser's mentor for more than a decade, Clark recognized early on the value of DNA analysis in identifying Africa's largest elephant-poaching hotspots. "Bill is among the most insightful people I know when it comes to investigating wildlife crimes," said Wasser, who has co-authored multiple research papers with Clark. "There is a rarely an important case I am working on that I fail to ask Bill's advice. When he does give advice, he always hits the nail on the head and often provides an angle I've failed to consider."
A recognized expert in his field who has received multiple international awards, Clark delivered testimony in 2008 to the US House Committee on Natural Resources on "Poaching American Security: Impacts of the Illegal Wildlife Trade." Two years later (and six years before AWI's extraordinary good fortune in having Clark join our staff), he received AWI's Clark R. Bavin Wildlife Law Enforcement Award to honor his dedication to wildlife protection and biodiversity. In Senegal, he was knighted by the president, receiving the Chevalier de l'Ordre du Merite.
Today, Clark serves as an honorary warden and US liaison to the Kenya Wildlife Service (KWS) as part of a collaboration dating to the 1980s. A trained commercial pilot, Clark has arranged for advanced training for Kenyan surveillance pilots using refurbished surplus planes purchased as scrap from the Israeli Defense Forces. Pilots learn how to safely fly low while scouting for poachers hiding under trees, or to follow the vultures circling carcasses. With funding from AWI, Clark has supplied KWS with night-vision equipment and Israeli-trained dogs, who immobilize poachers without killing them.
KWS has enjoyed reasonable success in suppressing the bushmeat trade through vigorous patrols, tips from the public, and ongoing monitoring of markets. Before DNA analysis came into play, bushmeat dealers could circumvent the law by instructing poaching gangs to deliver red meat only. That meant cutting away all "morphologically identifiable" parts used by biologists to determine whether the specimen came from a protected species. AWI and other organizations have supported the creation of a DNA forensics laboratory in Nairobi to aid in the effort, along with expanding Manyani, Africa's only wildlife law enforcement academy, located in Tsavo West National Park. (See AWI Quarterly, spring 2016.) The KWS patrols serve as a major deterrent; no elephants or rhinoceroses have been poached in Kenya during daylight hours over the past five years.
Clark and AWI are also working with the Senegal National Parks Directorate to rescue a portion of the Sahel, a band of semi-arid grassland stretching between the vast sands of the Sahara Desert and the dense foliage of the Congo rainforest. Spanning more than 3,300 miles, the Sahel has succumbed to armed conflicts, famine, and wildlife decline. Clark's mission is to carve out a new protected zone roughly the size of New Jersey, while supporting community development in the area. (See AWI Quarterly, fall 2017.)
In Ghana, Clark and AWI are partnering with the country's Wildlife Department to move illegally trafficked African grey parrots into a "halfway house" located in their natural habitat. Ghana has lost more than 90 percent of its African greys over the past decade, according to Clark. Smuggled birds often die from suffocation. The "lucky" ones are seized by law enforcement, but may wind up in cages at zoos due to a lack of rescue centers. ("A bird 'in a cage puts all heaven in a rage,'" Clark intoned, borrowing a line from a William Blake poem.) The ultimate aim of the project, he said, is to set the birds free in the land from whence they came. Meanwhile, hundreds will remain in the rehabilitation facility until they are judged to be physically and behaviorally fit for release.
At 75, Clark jokes that he has "one foot in the cemetery and another one on a banana peel." Kidding aside, he still works hard and enjoys the thrill of flinging himself across the sky as an aerobatics pilot or surveying the monarch butterflies laying eggs on the milkweed in the garden he tends with his wife, Judith (an artist). He also has two grandchildren to keep him occupied… and to remind him why it's important to preserve the Nature that he holds in such reverence. ("Nature" is a proper noun in Clark's view, deserving of a capital N.) And humans, he believes, have a duty to be more benevolent to Nature's denizens—allowing them to retain their wild qualities while keeping them safe in the place where they belong.