Pablo Puppy: Additional Activities for Children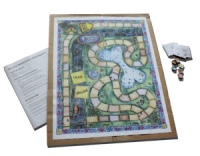 Activities, based on our Pablo Puppy book, to encourage humane care of companion animals. PDF includes printable board game, coloring pages, and a matching game and solution.
For the board game, players take turns drawing cards and following the instructions as they "walk" their dog or cat around the board until the last one gets home safely. Responsible pet care (such as always being kind to your dog or cat, even when he makes a mistake) allows the players to move ahead, while negative actions (like teasing your dog or cat) require the players to move backward. Everyone wins by learning how to keep both dogs and cats healthy and happy!
There are 2 options for the game: a pre-colored board OR a blank board that needs coloring. Click on the photo of the game you'd like (please wait for the PDF to load - it is a large file and will take a few minutes). Then, print out all 10 sheets of the Pablo Puppy Game: a list of game instructions, 4 pages that create the board, and 4 sheets of playing cards. (These board games include pieces for Pablo Puppy and Kamie Cat.) Enjoy!
PDF For Download