NIBRS User Manual for Animal Control Officers and Humane Law Enforcement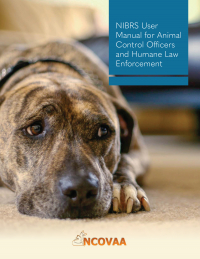 Provides guidance to animal control officers and humane law enforcement for reporting animal cruelty incidents through their local law enforcement agency to the FBI under the National Incident-Based Reporting System. Manual also contains a memorandum of understanding that can be used as a template to formalize a relationship between an animal control agency and a police department for sharing data on animal cruelty incidents. Please click here for a PDF of the NIBRS Generic Incident Report Form.
Animal control officers and individuals in law enforcement may request one free print copy. Please provide your organization's name at checkout.
PDF For Download