Last December, for the first time ever, AWI offered a scholarship to high school seniors who are engaged in bettering the lives of animals and who plan to pursue a course of study that would enable them to continue working on animals' behalf.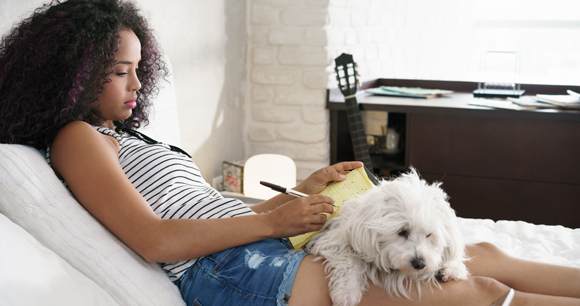 At the time, no one knew the recipients would be beginning their freshman year during a worldwide health crisis. Through their applications and letters of recommendation, we learned that the winners were exemplary students who showed initiative and drive to help animals. Now, while dealing with the effects of COVID-19 on their communities and campuses, these students have also shown that they are resilient and that they remain as committed as ever to advocating for animals.
Several of the scholarship recipients have been attending hybrid classes that combine classroom time with remote learning, while others are enrolled in online classes only. Despite the challenges of the pandemic, students are finding that their commitment to working for animal welfare has been reinforced by their college experience. Some have had the opportunity to work hands-on with animals by participating in wildlife rehab, training service dogs, and working part-time at an emergency vet clinic while maintaining full-time course loads. "I am currently enrolled in 14 credits with 8 of them being geared towards animals, which have all strengthened my love for the field as well as my desire to want to do more" noted one scholarship winner.
This year's high school seniors again have an opportunity to apply for the Animal Welfare Institute Scholarship. AWI will award up to 12 scholarships of $2,000 each to applicants who have an impressive and clear plan to continue working to protect animals. The deadline to apply is February 14, 2021. To learn more about the scholarship and application process, please visit awionline.org/scholarship.