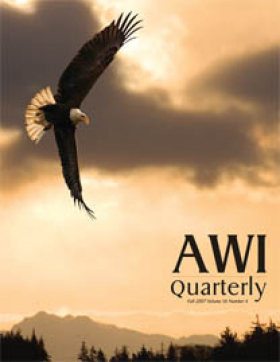 About the Cover
In addition to serving as America's national emblem, the majestic bald eagle (photo by John Hyde) is a symbol of the Endangered Species Act's success. The species nearly died out due to DDT exposure and other threats, but today over 11,000 nesting pairs inhabit the continental United States. A multitude of species have received protection from this important legislation since it was enacted in 1973, and today it is needed more than ever (See An American Success Story).
Recently, the World Conservation Union released an updated Red List of Threatened Species, stating that one in four mammals and a third of all amphibians are in jeopardy. Threats are increasing, from global warming to habitat encroachment, and the number of species at risk of extinction is up 88 percent from last year. This could have a devastating effect on the food chain, as well as ecosystems and the lives of both animals and people around the globe.
Photo by John Hyde
Full Fall 2007 AWI Quarterly as PDF
Animals in the Wild
Animals on the Farm
Companion Animals
Animals in the Oceans
Animals in Laboratories
News from Capitol Hill
Many people in developing countries benefit from reducing greenhouse gas emissions because forests are an important part of their livelihoods.

Former trapper Bill Randall witnessed companion animals caught in leghold traps, but now speaks out against the indiscriminate device.
The previously idyllic Romanian countryside has been invaded by corrupt agribusiness giant Smithfield Foods.