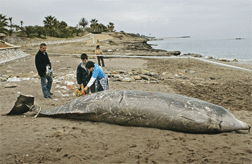 On the evening of Jan. 26, four Cuvier's beaked whales stranded and died on two beaches off the Almeria coast in Southern Spain. The British Royal Navy had been conducting exercises in the Mediterranean at the time with the HMS Kent. The Animal Welfare Institute's Susan Millward contacted the Ministry of Defense on Feb. 2 and learned the Kent is equipped with active sonar that was allegedly turned on for five minutes three days before the stranding—though its location on the 26th was not divulged. While the Spanish naval base of Cartagena is located approximately 50 miles east of the stranding site, AWI was advised that no Spanish Navy ships were known to be in the area at the time.
This mass stranding incident appeared suspicious because the animals did not strand together. Fortunately, a veterinary pathologist team from la Universidad de Las Palmas de Gran Canaria rushed to the scene to attend to the animals. The team is experienced in noise-related strandings, having conducted numerous necropsies on whales who stranded in the Canary Islands after naval exercises. It also coined the term "Gas and Fat Embolic Syndrome" to describe a condition in stranded marine mammals that is hypothesized to result when whales rise toward the ocean's surface too quickly (an affliction similar to the bends in humans) as they try to escape from noise.
The preliminary necropsy results from this latest stranding were released on March 17, and Gas and Fat Embolic Syndrome was reported in all four animals. The report concludes that the "most likely primary cause of this type of beaked whale mass stranding event is anthropogenic [human-caused] acoustic activities, most probably anti-submarine active mid-frequency sonar used during the military naval exercises." Our European colleagues are now urging British authorities to provide precise information about the location of the Kent and its sonar use on the stranding date.