CITES COP 13, Bangkok, Thailand, October 2-14, 2004
More than 500 delegates participating in the 13th meeting of the Conference of the Parties to the Convention on International Trade in Endangered Species of Wild Fauna and Flora (CITES) packed the Retro Live Café on Oct. 4 in Bangkok's Queen Sirikit National Conference for the Species Survival Network (SSN) reception.
It is during this reception at each CITES meeting that AWI presents its prestigious Clark R. Bavin Wildlife Law Enforcement Awards to those individuals who have gone to great lengths and personal sacrifice—a sacrifice that all-too-often includes their own lives—to protect wildlife from cruelty and decline in their natural habitats.
The awards are named for the first director of the US Fish and Wildlife Division of Law Enforcement, who pioneered its many undercover "sting" operations. This year's awards were magnificent sculptures of great white sharks, designed and donated, as always, by John Perry, an artist and friend of AWI.
The SSN reception, cohosted by WildAid, also included WildAid's new series of public service announcements against wildlife consumption, featuring Olympic champions Maurice Greene, Allen Johnson, Cathy Freeman, Dwight Philips and Hailie Gebreselassie promoting the message, "When we all come together, we can do anything."
Against this backdrop, we all came together for a wonderful evening of respectful tribute. The CITES Secretary-General, Willem Wijnstekers, presented the awards, noting that the "outstanding achievements of the brave individuals that we honour this evening should fill us with a sense of humility in the face of such self-sacrifice, and pride at what can be achieved against considerable odds."
Mr. Wijnstekers continued, "Let us take our inspiration from them. Consider yourselves and your colleagues at home to have been issued a challenge. A challenge to rise to the occasion and the example these remarkable people have set; to come together in a concerted global effort to protect wildlife from illegal, unsustainable over-exploitation."
Following are short synopses of the work of the recipients of the 2004 Clark R. Bavin Wildlife Law Enforcement Awards.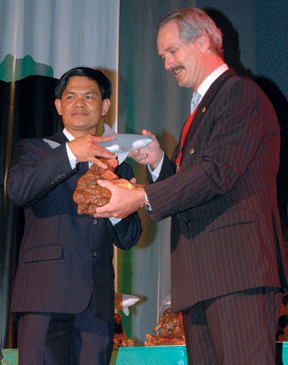 Mr. Chey Yuthearith, Director of Bokor National Park in Cambodia has been working to effectively implement the Bokor Conservation Project in Cambodia. More recently he has assumed extra duties as the Coordinator at the National Protected Areas Training Center, also located at Bokor National Park. The park has become a model protection project for Cambodia, and is being emulated in three further Cambodian protected areas. In the line of duty, he has received numerous threats against his life, and has been the target of gunfire. Several of his staff have had hand-grenades thrown at them and suffered injuries as a result. Working in conservation in Cambodia can be dangerous to say the least, and as a representative of the staff of the Ministry of Environment and a judicial law enforcement officer, he is a shining example of what a dedicated and honest official can achieve.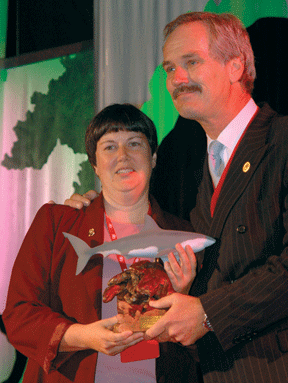 Ms. Sheila Einsweiler, Division of Law Enforcement, US Fish & Wildlife Service, has supported global efforts to combat the unlawful commercial exploitation of wildlife during her 16 years of service with the US Fish & Wildlife Service, Office of Law Enforcement. Ms. Einsweiler was a key player in preparing the Office of Law Enforcement to implement new restrictions on caviar trade, and ensuring the Service met the challenge of monitoring this previously unregulated, high-volume, high-value industry. As co-chair of the trade subgroup of the Presidentially-created US Coral Reef Task Force, she directed an inter-agency effort to analyze United States trade data for corals, giant clams and other reef species that promises enhanced safeguards for these increasingly imperiled resources. Her testimony as an expert witness on wildlife trade helped Federal prosecutors win convictions in a number of high profile cases, including the Nation's first successful felony prosecution for coral trafficking. She has analyzed and identified numerous improvements for the wildlife inspection program, and has helped make the Service the instructor of choice for other countries that want to improve wildlife trade monitoring. Her contributions in the training arena have benefited enforcement officers and wildlife conservation efforts in the Americas, Asia and Africa.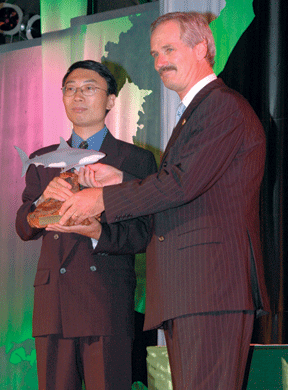 The largest ever haul of tiger and leopard skins took place in October 2003 in the Tibet Autonomous Region of China. A total of 31 tiger skins, 581 leopard skins and 778 otter skins were recovered from a single truck, and three people were arrested. A temporary inspection point west of Lhasa made the seizure, but officers from Lhasa Customs Anti-Smuggling Bureau, treating the matter as a priority, undertook an extensive investigation to find out more about the trade. Their investigative efforts were critical in creating a better understanding of how the illegal wildlife trade works. The China Customs Administration is now pursuing this case through the courts, and the award was given to the Anti-Smuggling Bureau, Chinese Customs Administration.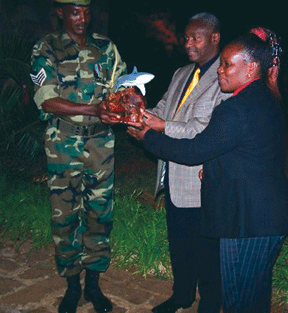 Corporal Huka Umuro Kuri was recruited into the Kenya Wildlife Service in 1990, and has since played a key role in security operations in Meru National Park, Tsavo East and Tsavo West as well as non-protected areas nationwide. Corporal Kuri is a fearless section commander who has led men under his command to various successful operations. In April 2002, he was asked to pursue a gang of four heavily armed poachers who had massacred ten elephants at Mfupa Ndovu in Tsavo National Park. Although the gang of armed Somali militia men employed superior firepower, his unit engaged them in a fierce fight and managed to overpower them. He recovered a G3 rifle, an ammunition magazine, 117 rounds of ammunition, one rifle propelled grenade and eighteen elephant tusks. According to the Director of the Kenya Wildlife Service, it was due to "his bravery and effective command that the poachers were neutralized."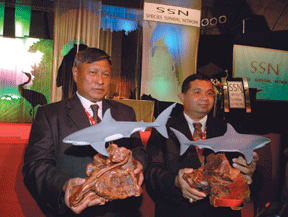 Mr. Thanit Palasuwan (gentleman on the right), Forestry Official in Thailand's Ministry of Natural Resources and Environment, has been involved in 268 illegal wildlife trade cases involving over 9,000 birds, 12,000 reptiles and 125 mammals since 1997. He has helped make arrests for the illegal wild orchid trade, as well as identify wild orchid products as part of prosecutions. He is a Wildlife Law Instructor who has organized exhibits on wildlife. As liaison between conservation and government agencies, he attended workshops on trade in terrestrial and freshwater turtles and tortoises in Cambodia, Wildlife Law Enforcement Training for tiger range States in India in 2002, and Wildlife Crime Investigations in Bangkok in 2002.
Photos by Jock Montgomery
Pol. Maj. Gen. Sawaeke Pinsinchai (gentleman on the left), Commander of Forestry Police Division, Royal Thai Police, has been responsible for leading the series of raids across Thailand targeting illegal wildlife dealers and those illegally engaged in captive breeding of endangered species such as tigers and orangutans. The high profile raids in late 2003 illustrated the value of sustained, well-orchestrated operations led by committed individuals. In one raid, a team of forestry police officers under Maj. Gen. Sawaeke Pinsinchai's leadership entered a house on the outskirts of Bangkok and discovered tiger carcasses quartered and on ice, 21 bear paws severed at the joints, six starving tigers, five live bears and four baby orangutans—one of whom died because of the horrendous conditions. Sawaeke's team also raided an open market, and seized more than 1,000 protected birds in one day, as well as a couple of private zoos, where they found 70 unregistered orangutans. The illegal trade of wildlife in Thailand has suffered a serious blow as a result of this seasoned police officer's actions. He has taken on powerful businessmen and not faltered; his courage and determination deserve recognition.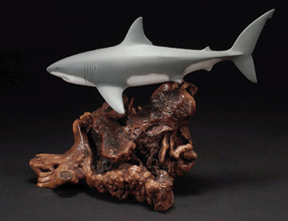 This year's Clark R. Bavin award, designed by John Perry. www.johnperrystudio.com