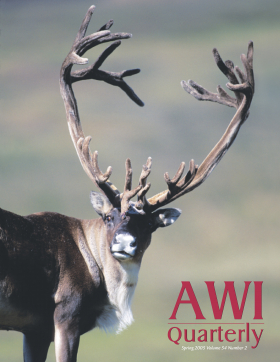 About the Cover
The majestic barren ground caribou is one of approximately 36 species of mammals currently living in Alaska's Arctic National Wildlife Refuge. This animal, now enjoying its vast range in the alpine tundra, may soon be in danger. Recent action in the Senate has put the caribou's habitat at risk of destruction for the drilling of a trivial amount of oil. While proponents of drilling claim it can be done without damage, it is not a risk worth taking on such a national treasure (photo by Len Rue Jr.).
Looking back in time at the 1989 Exxon-Valdez oil spill across 1,300 miles of coastline in Alaska is a reminder that precious wildlife and their habitats should not be taken for granted. Thousands of animals died of causes such as oil coating and inhalation of fumes. A decade after the accident, relatively fresh and toxic oil was still present at several beaches, and remnants from the spill despoil the area's landscape even today.
Photo by Len Rue Jr.
For a copy of the full AWI Quarterly in PDF, click here.